January 30, 2013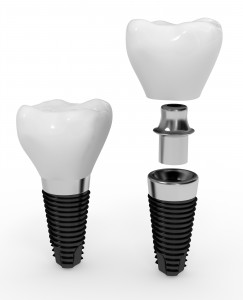 A complete smile is important for more than one reason. Not only does a complete smile help you feel more confident around others, it's important for speaking and for enjoying a healthy diet. When you're unable to do those to the extent that you'd like you can feel self-conscious and even defensive.
But thankfully, there's a restorative dentistry solution called dental implants that can help you restore your smile's appearance and its functionality. With dental implants, Dr. Banda's Bloomfield patients can enjoy a smile that looks and functions just like a natural smile.
How Do Dental Implants Work?
Like natural teeth, dental implants are made up of two parts: a crown and a "root." But the root, in this case, is made of titanium and is surgically placed in the jaw. Because titanium is a biocompatible metal, the "root" will bond with the jaw over time, stimulating the growth of bone tissue until there's a firm bond between the implant and the jaw.
Dental implants can be used in a variety of situations. Some patients may only need to replace a single missing tooth. Others may need to replace as much as a whole row. Dental implants are a versatile option that can work in a variety of situations.
Not every patient is a candidate for dental implants, though. To find out if dental implants are right for you, call Cranbrook Dental Care. Dr. Banda would be happy to advise you following a consultation appointment. We serve patients from Bloomfield, Troy, Birmingham, Clarkson, Royal Oak, and the entire metropolitan Detroit area.
November 12, 2012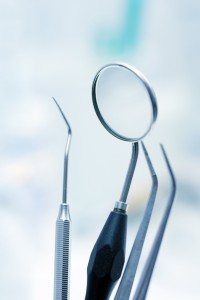 Your smile and your overall wellbeing are closely connected. Just think about the effect a toothache or sore gums can have on your mood. Poor oral health can also make it more difficult to eat certain foods. What's more, when you feel bad about your teeth, your willingness to smile around others suffers. All of which explains why Dr. Banda of Cranbrook Dental Care offers such a wide range of general dentistry services.
Our Bloomfield dental team believes that all of our patients, regardless of age, should come in every six months for a regular checkup and cleaning. Why so often? Because regular visit will help Dr. Banda monitor your smile for changes, like the appearance of decay or the early warning signs of gum disease.
Catching conditions like these early on is important. By catching them early, we can provide treatment before they've reached a developed stage. That means treatment will be more comfortable and less invasive. Our other general dentistry services include:
To learn more about each of these services, click on the links above. And if you have any questions about what we offer, or if you'd like to reserve an appointment, don't hesitate to give us a call. Dr. Banda and his team at Cranbrook Dental Care are proud to serve patients from Bloomfield, Troy, Birmingham, Clarkson, Royal Oak, and the surrounding metropolitan Detroit area.