January 30, 2013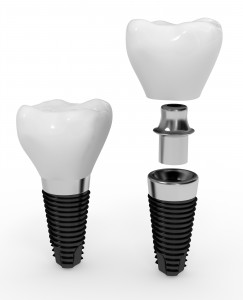 A complete smile is important for more than one reason. Not only does a complete smile help you feel more confident around others, it's important for speaking and for enjoying a healthy diet. When you're unable to do those to the extent that you'd like you can feel self-conscious and even defensive.
But thankfully, there's a restorative dentistry solution called dental implants that can help you restore your smile's appearance and its functionality. With dental implants, Dr. Banda's Bloomfield patients can enjoy a smile that looks and functions just like a natural smile.
How Do Dental Implants Work?
Like natural teeth, dental implants are made up of two parts: a crown and a "root." But the root, in this case, is made of titanium and is surgically placed in the jaw. Because titanium is a biocompatible metal, the "root" will bond with the jaw over time, stimulating the growth of bone tissue until there's a firm bond between the implant and the jaw.
Dental implants can be used in a variety of situations. Some patients may only need to replace a single missing tooth. Others may need to replace as much as a whole row. Dental implants are a versatile option that can work in a variety of situations.
Not every patient is a candidate for dental implants, though. To find out if dental implants are right for you, call Cranbrook Dental Care. Dr. Banda would be happy to advise you following a consultation appointment. We serve patients from Bloomfield, Troy, Birmingham, Clarkson, Royal Oak, and the entire metropolitan Detroit area.
No Comments »
No comments yet.
RSS feed for comments on this post.
Leave a comment