Invisalign® Improves Bloomfield Hills Smiles
Straightening the Teeth of Teens and Adults in the Bloomfield, Troy and Birmingham Areas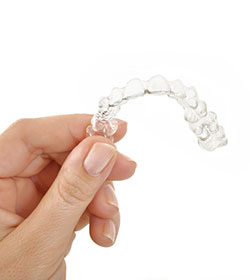 You want straight teeth for a more attractive smile, but you don't want to sacrifice your image. Teens and adults often shy away from traditional, metal orthodontics because the wires and brackets look immature, and maintenance is a hassle. What if Dr. Banda could give you the smile you want without altering your sophisticated image, without you enduring the hassle and pain of metal braces, and in less time than traditional orthodontic therapy?
With Invisalign® clear braces, Dr. Banda can deliver your ideal smile in approximately 6 to 18 months. You'll have the freedom to remove your clear braces when you have an important meeting or to easily clean your teeth. Because Invisalign® aligners are fabricated from clear acrylic, they're virtually undetectable. Invisalign is the clear choice for discerning professionals and image-conscious teens!
Call Dr Banda's Bloomfield Hills office today for a free Invisalign consultation for you or your teenager. We create gorgeous smiles for patients throughout this area, including Troy, Clarkston, Birmingham, and Royal Oak. To learn more about Invisalign®, visit the company's website at www.Invisalign.com.
Invisalign FAQs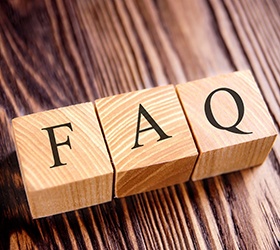 Do you want to know more about Invisalign clear braces? Dive into the Frequently Asked Questions below! Our expert staff at Cranbook Dental Care has put together this list of the most commonly asked questions about Invisalign in Bloomfield Hills. From treatment costs to smoking while wearing Invisalign trays, we cover it all. We hope you find this information helpful in deciding how to straighten your smile.
Once you feel ready to schedule an initial consultation with Dr. Banda, contact us online or give us a call!
Is Invisalign Treatment Comfortable?
One of the major advantages of Invisalign clear braces is that they are significantly less likely to irritate the tissue inside your mouth compared to traditional metal braces. You will never have to worry about broken metal wires poking or scratching your gums or inner cheeks! Instead, the Invisalign aligners' smooth plastic and custom form ensure that they will fit comfortably around your teeth. While you may experience a bit of dental sensitivity when switching to a new set of aligners, any discomfort is temporary and should quickly disappear as your mouth adjusts.
Is Invisalign Treatment Safe?
You can rest assured that Invisalign treatment is a perfectly safe way to achieve a straighter smile. The medical-grade polyurethane plastic used to create custom Invisalign trays has been approved by the U.S. Food and Drug Administration (FDA) for long-term use in the body. In addition, according to the manufacturer, Invisalign trays do not contain any Bisphenol A (BPA), parabens, latex, phthalates, glutaraldehyde or epoxy.
I Had Metal Braces in the Past. Can I Still Benefit from Invisalign?
Yes! Teeth can slowly shift over time, even if you have had metal braces in the past. You may still be able to benefit from Invisalign treatment today if your teeth are no longer in the desired position. Thanks to Invisalign, you do not have to repeat the high school experience of having unsightly metal brackets and wires in your mouth! Instead, you can maintain your professional appearance while achieving a straighter smile with Invisalign clear braces.
Can I Smoke While Undergoing Invisalign Treatment?
If you are a regular smoker and considering Invisalign in Bloomfield Hills, now may be the perfect time to try to kick the habit. Smoking cigarettes while wearing Invisalign aligners will quickly stain the trays and make them stand out. If you frequently take the aligners out to smoke, however, this will significantly delay completion of your treatment or even lead to treatment failure. Quitting tobacco will not only help you successfully complete Invisalign treatment on schedule but also boost your overall health.
How Much Does Invisalign Cost?
Each series of Invisalign trays is custom-designed for the individual patient's unique smile, so there is no one-size-fits-all cost of treatment. Generally speaking, the final cost of Invisalign is influenced by the following factors:
The overall complexity of the case
The number of aligners needed to complete treatment
The patient's commitment to wearing aligners as directed by a dentist in Bloomfield Hills
Do you have dental insurance? If your insurance plan covers traditional orthodontic treatment like metal braces, it likely will cover Invisalign treatment as well. However, every insurance plan is slightly different. Be sure to read the details of your insurance policy moving forward with treatment.