Invisalign® Improves Bloomfield Hills Smiles
Straightening the Teeth of Teens and Adults in the Bloomfield, Troy and Birmingham Areas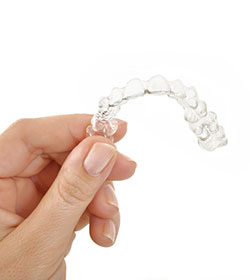 You want straight teeth for a more attractive smile, but you don't want to sacrifice your image. Teens and adults often shy away from traditional, metal orthodontics because the wires and brackets look immature, and maintenance is a hassle. What if Dr. Banda could give you the smile you want without altering your sophisticated image, without you enduring the hassle and pain of metal braces, and in less time than traditional orthodontic therapy?
With Invisalign® clear braces, Dr. Banda can deliver your ideal smile in approximately 6 to 18 months. You'll have the freedom to remove your clear braces when you have an important meeting or to easily clean your teeth. Because Invisalign® aligners are fabricated from clear acrylic, they're virtually undetectable. Invisalign is the clear choice for discerning professionals and image-conscious teens!
Call Dr Banda's Bloomfield Hills office today for a free Invisalign consultation for you or your teenager. We create gorgeous smiles for patients throughout this area, including Troy, Clarkston, Birmingham, and Royal Oak. To learn more about Invisalign®, visit the company's website at www.Invisalign.com.