Teeth Whitening
Professional Teeth Whitening Puts the Pearl in Your Pearly Whites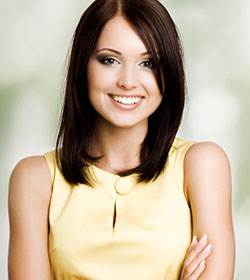 Time can be just as hard on your teeth as it is on your skin. Dark beverages, nicotine, hard water, and some medicines can stain your tooth enamel and create a prematurely aged appearance. Fortunately, in as few as two weeks, professional teeth whitening can lighten your teeth by up to 10 shades.
You don't have to be a super model to brandish a glamorous smile if you use Zoom! Whitening®. Dr. Banda will consult with you first to make sure you are a candidate for teeth whitening and then help you choose which teeth whitening product will work for your lifestyle. Whether you use Night White or Day White, Dr. Banda will jumpstart your whitening process by completing the first treatment chairside. After about two weeks using the homecare kit for as little as 30 minutes per day, you can show off your dazzling white smile to friends and family.
Zoom! Whitening
If you've found yourself scrutinizing your smile, especially the color of your teeth, it might be time to consider teeth whitening. Just lightening your smile can shed years from your appearance, brightening your look and renewing your confidence. At Cranbrook Dental Care, we offer Zoom! Whitening to our patients. Used in more than 15,000 dental practices worldwide, Zoom! Whitening is proven to be one of the safest and quickest ways to whiten your teeth.
The Simple Process
Zoom! Whitening is fast and easy, transforming your smile in just a single dental appointment. We apply a special whitening gel and activate it with a low-heat light. As the gel penetrates the enamel and dentin in your teeth, it eliminates the stains and deep discolorations that food, drinks, and time have left behind. We complete the procedure with a strengthening fluoride treatment, and in just about an hour, you'll leave our dental office with a smile that's up to 10 shades whiter!
A New Smile
Call our Bloomfield Hills dental office to discuss teeth whitening with Dr. Banda. You'll be in good company with hundreds of patients from across this area, including those from Royal Oak, Clarkston, and Birmingham. To read more about teeth whitening, visit our patient library. Ask us how you can receive free teeth whitening for life!