Porcelain Veneers Perfecting Bloomfield Hills Smiles
Dr. Banda Creates Dream Smiles with porcelain veneers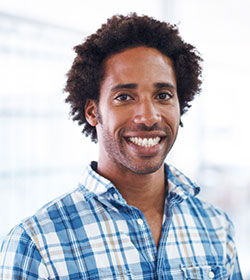 What do runway models and Grammy-winning actors have in common with the average man or woman? Beautiful, uniform smiles, created with natural-looking veneers. When you choose Dr. Banda as your dentist, he will help you join the thousands of people who find greater confidence in social, romantic, and professional situations, thanks to a sensational smile.
Ultra-thin porcelain veneers look stunning and cover a host of problems, including discolored teeth, cracked or chipped enamel, and crooked front teeth. As a benefit, you'll find these veneers highly resistant to staining from dark drinks, like coffee or wine.
If you've watched the popular makeover shows and wished you could have a smile like the ones you see on TV, you can! Call Dr Banda's Bloomfield Hills office today for your free veneers consultation. We create vibrant smiles for patients throughout this area, including Troy, Clarkston, Birmingham, and Royal Oak. For more about veneers, visit our patient library.
Porcelain Veneers FAQs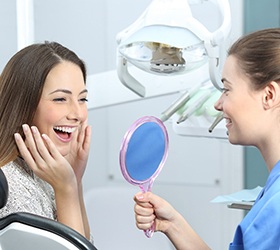 Are you ready to replace dental imperfections with your dream smile? It's natural to have a few questions about this popular cosmetic treatment. For your convenience, we've gathered some of the most common questions about porcelain veneers in Bloomfield Hills below. If you don't see the answer you're looking for, don't hesitate to call us and we'll be more than happy to help!
Are Porcelain Veneers Permanent?
To make sure your porcelain veneers don't look unnatural or bulky once they're placed, a thin layer of enamel about as thick as a contact lens needs to be removed. However, this means that this part of your tooth will always be more vulnerable than before. While your porcelain veneers can be removed if needed, your smile won't be as aesthetically pleasing and will be at a higher risk of decay and damage. Thankfully, you should only need to have your porcelain veneers taken off when they're being replaced. With the proper care, you can fully expect to enjoy your stunning smile for many years to come.
Does It Hurt to Get Porcelain Veneers?
While removing a layer of enamel may sound daunting, we do everything we can to ensure this step is as quick and painless as possible. We'll apply a local anesthetic beforehand to numb the area, so you shouldn't feel a thing as your teeth are prepared. Having the veneers placed and bonded to your teeth should cause no discomfort at all. For the first few days after getting your new porcelain veneers, it's completely natural to experience a slight amount of tooth sensitivity. This short-lived sensation should be easy to manage with over-the-counter pain relivers if necessary.
How Many Porcelain Veneers Will I Need?
Since each individual porcelain veneer is custom-made, you could choose to improve the appearance of a single tooth if you like. However, we usually recommend getting veneers in pairs, such as the front two, four, six, or eight teeth for the most seamless results. During your consultation, your Bloomfield Hills cosmetic dentist will go over your goals for improving your smile and help you determine the ideal number of porcelain veneers for you.
Can Anyone Get Porcelain Veneers?
Porcelain veneers are a great choice for almost anyone, but some patients may need to complete preliminary dental work first. For instance, teeth with extensive tooth decay shouldn't be covered with porcelain veneers. Simply concealing cavities can lead to painful dental infections, so we'll need to repair your tooth with tooth-colored fillings before applying a porcelain veneer or enhance the tooth with a dental crown instead. Additionally, if you grind your teeth in your sleep (which is a condition called bruxism), you could damage or dislodge your porcelain veneers. We may recommend using a custom nightguard to treat your bruxism before moving ahead with your cosmetic treatment.
How Much Do Porcelain Veneers Cost?
Just as no two smiles are exactly the same, the cost of porcelain veneers will vary from patient to patient based on their unique needs. There are a variety of factors that will go into the price of your treatment, such as how many veneers you need and if you require any preliminary treatments. We'll be able to give you a more personalized estimate of the final cost once we've evaluated your smile during your consultation. While dental insurance policies typically don't cover cosmetic treatments like porcelain veneers, we offer financing through CareCredit to make getting your dream smile as affordable as possible.