Dentures Replace Teeth in Bloomfield Hills
Replace Missing Teeth with Dentures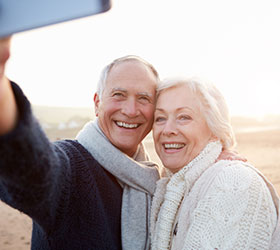 When you lose teeth, your confidence and oral health take a hit. Chewing becomes more difficult, so patients often have to sacrifice a healthy diet. Gaps in your smile can cause facial muscles to sag and make you look older. Don't let tooth loss stop you from living life to the fullest. Modern dentures will allow you regain your full, healthy smile. High-quality materials and a precise fit mean that your new dentures will not only look great and feel natural, but you will enjoy eating the crisp foods you love and smiling with grace.
Dr. Banda can replace missing teeth with full dentures or partials, depending on how many teeth you have lost. We also offer implant-supported dentures and partial dentures for a secure fit that does not require adhesives or clasps. If you are a candidate for immediate dentures, you will actually leave our office with a set of temporary false teeth to wear until our dental laboratory creates your permanent dentures.
Revitalize your smile with dentures. Call today to schedule a consultation with Dr. Banda. Our Bloomfield Hills dental office is conveniently located for Troy, Birmingham, Clarkston, and metropolitan Detroit area residents.
Dentures FAQs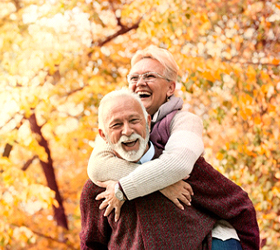 Patients have found great success with dentures in Bloomfield Hills. Whether it is a partial or full denture, it can improve a person's quality of life, making it possible to eat, chew, and speak with greater clarity and confidence. If you're preparing to move forward with your own set of dentures or are still contemplating the idea, Dr. Banda and his team have compiled some of the most commonly asked questions about dentures to help you in your decision-making process. If you have any additional questions or concerns, please don't hesitate to contact us.
Can I eat normally with dentures?
While the early stages of denture-wear might make eating a bit more awkward, you can expect the adjustment phase to last only a short while. Your taste buds may be a bit off in the beginning but by following these easy steps, you'll be eating like normal with your new dentures:
Opt for softer foods in the beginning (i.e. eggs, fish, cooked vegetables, pudding)
Use your back teeth to chew, using both sides at the same time
For easier consumption, cut up larger pieces of food
How much pain is involved with getting dentures?
You can expect some minor discomfort and irritation when first being fitted for dentures. Your mouth has become accustomed to not having teeth, so it will take some time to adjust. If this is the first time you've ever worn dentures, you can expect the pain to last a bit longer, but if you're receiving a new set, it may not take quite as long to adjust to the newness. Keep in mind, if you require any teeth to be removed before receiving dentures, it is highly likely that the areas in which your extractions were performed will be sore and tender for quite some time, so you'll need to make sure you're taking proper measure to heal.
What do I do if my dentures pop up while eating?
If this happens, it may be that your dentures do not fit quite as well as they should. Schedule an appointment with us and allow our team to examine your restoration and oral structure. By improving the fit, you should be able to eat normally without any problems whatsoever.
How do you know when it's time to reline dentures?
Age can cause a shift in your jaw, resulting in your dentures no longer fitting properly. When this happens, you will need to have them relined, which will require your dentist to refit the base of your dentures. This will not only ensure they fit more snugly and comfortably, but it will reduce the likeliness that you will experience slippage or your dentures falling out.
Can I sleep in my dentures?
While it is possible for you to sleep in your dentures, it is recommended that you perform proper oral hygiene practices to keep them clean. Typically, dentures are cleaned at night and allowed to soak while you sleep. It is best if they are removed, so as to give your gums and bone a chance to relax from all the pressure your denture can cause.