Dentures Replace Teeth in Bloomfield Hills
Replace Missing Teeth with Dentures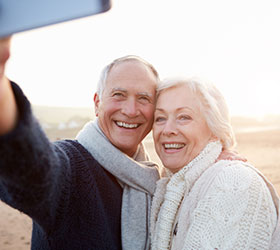 When you lose teeth, your confidence and oral health take a hit. Chewing becomes more difficult, so patients often have to sacrifice a healthy diet. Gaps in your smile can cause facial muscles to sag and make you look older. Don't let tooth loss stop you from living life to the fullest. Modern dentures will allow you regain your full, healthy smile. High-quality materials and a precise fit mean that your new dentures will not only look great and feel natural, but you will enjoy eating the crisp foods you love and smiling with grace.
Dr. Banda can replace missing teeth with full dentures or partials, depending on how many teeth you have lost. We also offer implant-supported dentures and partial dentures for a secure fit that does not require adhesives or clasps. If you are a candidate for immediate dentures, you will actually leave our office with a set of temporary false teeth to wear until our dental laboratory creates your permanent dentures.
Revitalize your smile with dentures. Call today to schedule a consultation with Dr. Banda. Our Bloomfield Hills dental office is conveniently located for Troy, Birmingham, Clarkston, and metropolitan Detroit area residents.