August 4, 2015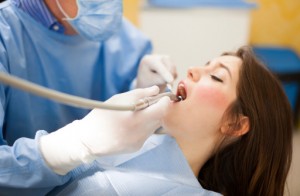 The big day is finally here. You've been looking forward to this day and dreading it in equal measure. Well, maybe you've dreaded it more. Your pulse races, your head spins, "I can't do this," you think. You change your mind, you can do it. Just breathe in and out; in and out. Finally, you muster up the courage to leave your house. You're halfway down the street when you realize you've forgotten your wallet. You turn your car around, and head back home. Checking your watch, you decide you'll never make it in time. With that, you call Dr. David G. Banda's office and let us know you can't make it. Sinking into a chair, you feel an overwhelming sense of relief because you don't have to see the dentist. Then, the sharp pain in your tooth reminds you why you made the appointment in the first place, and you ask to reschedule.
If this sounds like you, you may be one of the nearly 40 million people in the US who suffer from dental anxiety or phobia. At Cranbrook Dental Care, we know how you feel, and strive to put every patient at ease. Our office provides a calming atmosphere, and our attentive staff are always willing to accommodate your concerns. If you still fear coming to see us, we can offer you sedation dentistry. This option allows you to relax while receiving the dental care that you need. Call our Bloomfield Hills, MI practice to schedule an appointment today.

Sedation Dentistry from Cranbrook Dental Care
Millions of people every year report that they didn't visit the dentist for their twice annual checkups because they were scared. More patients report missing appointments due to fear than the number who reported not visiting the dentist because they were uninsured. Most patients don't realize that there's a way to treat their dental care needs without the unwanted stress and anxiety. Thanks to sedation dentistry, even the most fearful patients can receive the necessary dental care. In addition to people suffering from dental phobia, patients who may benefit from sedation dentistry include:
Those who need multiple or extensive treatment(s)
Those who have sensitive teeth, gums, or gag reflex
Those who have physical pain that makes extended periods in the dental chair uncomfortable
Those who have cognitive malfunction that may create unnecessary stress during a dental procedure
Sedation dentistry has been used for years to calm patient's nerves, reduce pain, and allow dentists to perform complex dental procedures while patients rest comfortably. At Cranbrook Dental Care, Dr. Banda and his team provide two types of sedation dentistry to meet the needs of our patients.
Oral Conscious Sedation – This term is typically used to describe the use of medicinal sedatives to relax patients during treatment. At Cranbrook Dental Care, we use a combination of nitrous oxide and sedative sedation. Oral Conscious Sedation is extremely helpful for patients with severe dental anxiety because they are able to begin sedation before leaving the comfort of home. Dr. Banda will prescribe a medicinal sedative to be taken at a predetermined time before your treatment. You will need to have a friend or family member drop you off and pick you up from our office as the effects of sedatives are long lasting and patients shouldn't drive until the sedative is out of their system. Once you arrive at our office for treatment, you will already feel very relaxed. During your procedure, Dr. Banda and his team will adjust your level of sedation as necessary utilizing nitrous oxide (laughing gas). This allows us to modify the level of sedation based on individual response to sedatives. For most people, the effects of the sedative wear off after a few hours, but patients should plan to resume normal activities the day after their procedure.
Intravenous Sedation – Intravenous (IV) sedation is another form of conscious sedation, but it provides patients with an increased level of relaxation. Patients who receive IV sedation will be administered a sedative during their procedure. Like nitrous oxide sedation, the level of sedation can be adjusted throughout the procedure to meet your individual relaxation needs. Most patients who use IV sedation remain awake, but some are so relaxed that they dose throughout their visit, and many people even report not remembering their dental care after receiving IV sedation. After the treatment, you should have a friend or family member pick you up as the effects of the sedative will not wear off for several hours. Patients should plan to resume normal activities the day after treatment.
Call the Bloomfield Hills Relaxing Cosmetic Dentist – Cranbrook Dental Care
Whether you need preventive, cosmetic, or restorative dental care, don't let fear keep you out of our treatment chair. Dr. Banda and the Cranbrook Dental Care team work hard to ensure that every patient receives the comfort and care that they need. Call to schedule an appointment with our caring team today. Our Bloomfield Hills dental practice welcomes patients from surrounding areas including Royal Oak, Clarkston, Troy, and Birmingham.
No Comments »
No comments yet.
RSS feed for comments on this post.
Leave a comment