July 23, 2016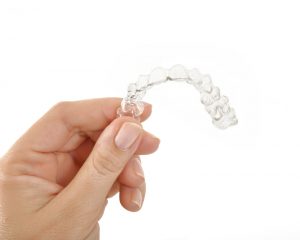 You have wanted a better looking and functioning smile your entire life. Now you have the opportunity to get one with Bloomfield Hills, MI Invisalign clear braces. A great part of the preventive, restorative and cosmetic line-up of services at Cranbrook Dental Care, Invisalign clear aligners are the quick effective way to a fantastic smile.
What are Invisalign clear aligners?
Basically, Invisalign aligners in Bloomfield Hills, MI are clear braces which resemble professional teeth whitening trays. Custom-made for older teens and adults according to instructions and imaging from your dentist at Cranbrook Dental Care, Invisalign appliances gently, steadily and invisibly move crooked teeth into more attractive and healthier positions.
Customized according to x-rays, photos and a treatment plan from your Bloomfield Hills, MI dentist, BPA-free Invisalign aligners are completely removable, making brushing, flossing and eating easy. Plus, patients remove them to attend weddings, job interviews and other special events. In or out, Invisalign appliances are really discreet.
The Invisalign process
First, your Cranbrook Dental Care dentist uses oral exam, x-rays and other imaging techniques to study your oral health and smile configuration to determine if you are a candidate for Invisalign. Once established, he or she takes impressions and writes a treatment plan. The Invisalign lab manufactures the 18 to 30 pairs of aligners. Patients wear aligners 20 to 22 hours per day.
As a patient, you come to Cranbrook Dental Care every 6 weeks to receive the next pairs of aligners and for a fast progress check. At-home, you care for your teeth and gums with daily flossing and twice daily brushing. Plus, a nutritious diet and proper hydration benefit your teeth and gums.
What Invisalign fixes
Drs.Banda, Cheslin, Kane and Hane use Invisalign for mild to moderate orthodontic cases–smiles with problems such as:
Gaps
Crowding
Overjet (front teeth protrude)
Overbite
Underbite
Cross bite
Overbite
At the end of the short 9 to 15 month treatment time, patients show smiles that are straighter and more attractive than they may have thought possible. Plus, Invisalign correction can be the foundation of a smile makeover that includes:
Zoom! Teeth whitening
Composite resin bonding
Ceramic crowns
Tooth-colored fillings
Combined with precise diagnostics, such as DIAGNOdent cavity detection, cleanings, 6-month exams, periodontal care and restorative services when needed, your smile receives a complete makeover and a boost in longevity, too. Restorative services repair decayed teeth and gums, and missing teeth are a thing of the past with modern dental implants and traditional bridgework and dentures.
What's the condition of your smile?
Find out, and fix it if necessary. You will find everything to fulfill your oral health needs and aesthetic goals at Cranbrook Dental Care. Contact the office team today for your Invisalign consultation.
Comments Off

on Get a better smile with Bloomfield Hills, MI Invisalign
No Comments
No comments yet.
RSS feed for comments on this post.
Sorry, the comment form is closed at this time.