May 23, 2014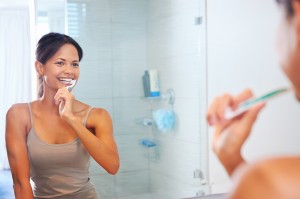 Brushing and flossing are two of the most important daily activities you can do. With regular brushing and flossing, you can remove bacteria and plaque from your teeth and your gumline, protecting it from common oral health issues like tooth decay and gum disease. What's more, because studies have linked gum disease with health problems in other parts of the body, caring for your smile is another way of caring for your overall health.
So, now that you know how important brushing and flossing are, ask yourself: Are you brushing and flossing correctly?
To give your smile the help it needs, you should brush for about 120 seconds, or two minutes. You should also be sure that you're dividing your time equally between not only your upper and lower teeth but also the inner surfaces and outer surfaces of your teeth. Hold your brush at about a 45 degree angle and apply gentle pressure as your scrub. To prevent bad breath, gently brush the surface of your tongue.
As for frequency, we recommend brushing at least twice a day, but it's even better if you can do it after every meal. You should also floss at least once a day to get any leftover pieces of food away from your smile. And for extra protection from gum disease and tooth decay, we recommend using either an antibacterial or fluoride mouthwash.
Do you still have questions about how to brush and floss correctly? Don't hesitate to call Dr. Banda's office in Bloomfield Hills with your questions or to schedule an appointment. We serve patients from Clarkston, Troy, Royal Oak, Birmingham, and the entire metropolitan Detroit area.

No Comments »
No comments yet.
RSS feed for comments on this post.
Leave a comment