November 28, 2020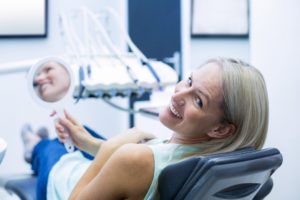 If you've lost all your natural teeth, dentures are a convenient solution to rebuild your smile. Since they aren't your real teeth, you might think you don't need to have semi-annual dental checkups with dentures, but this isn't true. In fact, you should still see your dentist at least twice a year. Not only will you promote your oral health, but you'll also preserve your investment to ensure your new teeth last for many years. Here are the top 4 reasons you'll want to schedule your next preventive visit.
1. Maintain a Healthy Smile
Semi-annual appointments are designed to keep your smile healthy, even if you've lost your teeth. While you might not be at risk of tooth decay, gum disease can still occur. If you have dentures in Bloomfield Hills, it's essential your mouth is kept clean to avoid infections and unpleasant odors. Your dentist will perform a professional cleaning to remove harmful bacteria.
2. Detect Dental Issues
Routine checkups allow your dentist in Bloomfield Hills to monitor your oral health. As a result, they can detect issues early, like gum disease and oral cancer. They can also spot the first signs of a poorly-fitting denture to make the necessary adjustments to prevent irritation and slipping down the road. This will help protect your denture to ensure it lasts for as long as possible.
3. Adjust Your Dentures
As time passes, your jawbone will shrink, and your mouth will change shape. Unfortunately, your denture won't adjust with your mouth. Instead, it won't fit as well as it did in the past. You might experience slipping and irritation that can cause discomfort and sores. Regular trips to your dentist will ensure your denture is fitting snuggly, so you can chew, speak, and smile without any concern.
4. Protect Your Investment
On average, dentures last for 5 to 7 years before needing to be replaced. There are several things you can do to promote the longevity of your smile. Besides caring for your denture at home, you should also see your dentist at least twice a year. They will keep your denture clean and check it for any signs of damage. This allows them to make the necessary repairs before they turn into an irreparable issue.
Invest in a Complete Smile
If you've lost all your natural teeth, it's important to see your dentist regularly, even if you have dentures. Although they may not be real, your dentist is still an invaluable asset to a healthy smile. They'll provide you with the personalized services you need for optimal oral health and an improved quality of life.
About Dr. David G. Banda
Dr. Banda earned his dental degree at the University of Michigan. He has completed additional training in many advanced treatments, like dental implants and prosthetics. He can treat the most complex cases of tooth loss. If you're ready to rebuild a beautiful, functional smile, contact our office today to schedule your consultation for dentures or dental implants.
Comments Off

on Do I Need a Dentist for Dentures?
No Comments
No comments yet.
RSS feed for comments on this post.
Sorry, the comment form is closed at this time.