October 7, 2016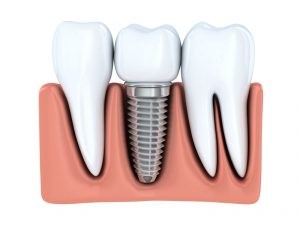 Missing teeth change more than facial appearance. They impact integrity of remaining teeth, gum tissue and jawbone. Dental implant dentist in Bloomfield, Dr. David G. Banda,  tells qualified patients how dental implants can change smiles for years to come.
Tooth Loss is a Fact of Life
Every dentist and every patient desires to preserve natural teeth. Unfortunately, despite our best efforts,  tooth loss sometimes occurs due to oral injury, gum disease and tooth decay. In fact, the National Institute of Dental and Craniofacial Research states that people between the ages of 20 and 64 lose an average of 5 teeth in their lifetimes.
As a result, people have unsightly smile gaps and problems speaking and chewing their food properly. While prevention of oral disease is the best defense against tooth loss, restorative dentists such as Dr. David G. Banda and his professional colleagues at Cranbrook Dental Care offer the best tooth replacement option available today–the dental implant. This tooth replacement marvel is the next best thing to a real tooth. In fact, implant patients testify that their implants feel and act just like their natural teeth.
The Predictable Dental Implant
Dentists maintain that a dental implant is a stable and predictable prosthetic tooth. That's because when Dr. Banda places one, you can be sure that it will feel rock-solid, be durable and strengthen your jaw and overall oral health, too.
How can a dental implant accomplish that? It's because the dental implant screw is composed of  titanium metal.  When surgically inserted into the jaw, the bone actually bonds to the device through an incredible process called osseointegration. Healing takes many weeks after the comfortable in-office surgery with Dr. Banda, but once it's done, the implant  device easily accepts a metal alloy post and lifelike porcelain crown.
Additionally, the implant exercises the jaw every time the patient bites and chews on it. Other tooth replacement options cannot halt the jaw bone and gum recession which occurs after tooth loss. With the dental implant, better bone and gum health is a guarantee.
Other Benefits
Dental implants do not decay, and they keep surrounding natural teeth well-aligned. Patients do not modify their healthy diets, and they experience no slippage or speech slurring as can happen with traditional partial or full dentures. Multiple implants can support fixed bridgework and removable or fixed full dentures. Dr. Banda has been trained at the prestigious Misch Implant Institute. You can count on his expertise for the perfect treatment plan for your oral health needs.
Patients maintain their implants with daily flossing and twice daily brushing. They see Dr. Banda semi-annually for oral exams, X-rays and cleanings to prevent an infection called peri-implantitis. Similar to gum disease, peri-implantitis is the only real threat to long-term implant retention. Poor hygiene and smoking cause most cases of peri-implantitis.
Who Qualifies for an Implant?
Older teens and adults who have good overall and oral health and have a strong jaw bone make good candidates.  With good aftercare, patients expect to keep their implants for the rest of their lives.
Learn More
Contact Cranbrook Dental Care for a restorative dentistry consultation. The dentist will explain the process, determine if you are a candidate and answer every question you have about this innovative tooth replacement.
Comments Off

on Bloomfield Hills Dental Implant Dentist Improves Smiles
No Comments
No comments yet.
RSS feed for comments on this post.
Sorry, the comment form is closed at this time.