February 10, 2016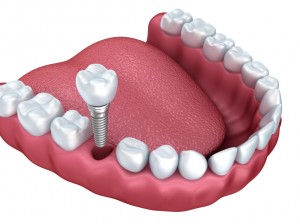 Over recent years, dental implant procedures have become increasingly popular as it's the only dental restoration procedure that preserves and prevents bone loss from missing teeth. With the American Association of Oral and Maxillofacial Surgeons reporting over half of adults 34 to 44 years of age have lost as least one tooth and an additional 26 percent of adults over 74 having lost all of their teeth, dental implants in Bloomfield Hills are widely sought. Dental implants improve the overall quality of life while reducing the risk for potential bone loss.

What are Dental Implants?
Dental implants are a restorative procedure used to replace missing teeth permanently using artificial teeth. A titanium implant is inserted into the jaw bone, at which point the artificial teeth are attached once the implant has formed a bond with the jaw bone. The implants eliminate the need for dentures, while delivering many additional benefits dentures can't offer. For example, dental implants offer more comfort and biting force than dentures, not to mention, they are the closest thing to mimic a natural smile. However, the greatest benefit of dental implants is the prevention of bone loss.
Bone Loss and Dental Implants
When there is tooth loss, the alveolar bone, which surrounds and supports teeth, begins to decrease at a rate of 25 percent each year. For those with multiple missing teeth, the more bone that is lost. Eventually, this can lead to the loss of the basal bone below the alveolar bone.
Dental implants help preserve the remaining bone, and in some cases, regrowth of the bone can occur. Since the implants are fused with the bone, the implants stabilize the bone to prevent further bone loss. In cases where the bone has been grafted at the time of tooth loss, the bone can be regenerated using the grafts to promote the regrowth of the bone.
Benefits of Dental Implants
The preservation of bone isn't the only benefit to implants. Implants function just as natural teeth for a permanent solution to missing teeth. Implants allow you to eat, chew, and speak more naturally, which isn't easily achievable with dentures. The implants are cared for similarly to natural teeth, so there's no need for additional cleaning or the use of adhesives. The implants fit correctly without slipping, creating greater comfort than dentures. Overall, implants increase the quality of life, while preventing additional complications. Plus, you'll have an amazing smile that looks natural.
While dental implants are more expensive than dentures, implants are a long-term investment in your oral health and appearance of your smile. In the long run, implants are more cost-effective due to the cost of denture upkeep.
Dental Implants in Bloomfield Hills
At Cranbrook Dental Care, we are the dental implant specialists. We provide exceptional quality as a leading dentist in Bloomfield Hills for all dental and restorative procedures. Our highly trained dentists specialize in nearly all aspects of implant care. With a personalized approach to oral health, you'll receive the utmost care when choosing Cranbrook Dental Care. Contact us today for a consultation.
Comments Off

on Choosing Dental Implants in Bloomfield Hills
No Comments
No comments yet.
RSS feed for comments on this post.
Sorry, the comment form is closed at this time.