December 4, 2015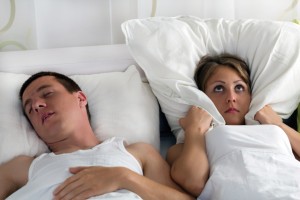 Is it simple snoring or something more serious? Dr. David Banda at Cranbrook Dental Care helps determine if you need sleep apnea treatment.
Snoring does more than annoy your spouse. That bothersome night time noise may indicate a serious health condition called sleep apnea in which the individual stops breathing while asleep. Hypertension, stroke, heart attack, diabetes, liver problems and other issues frequently result from untreated sleep apnea. People also suffer from concentration and memory problems, daytime sleepiness, headache and even depression and anxiety.
Is it sleep apnea?
There are 2 kinds of sleep apnea. The most common is obstructive sleep apnea, or OSA, in which the soft tissues at the back of the throat relax during sleep, blocking the airway. Snoring, startling awake and oxygen deprivation result. The other kind is central sleep apnea in which the brain neglects to send a signal to the respiratory system. Some people have a combination of the 2 types (complex sleep apnea).
Your primary care physician can help determine if you have sleep apnea. If the doctor suspects the problem, he or she may refer you to a sleep physician for a sleep study. Patients undergoing these special studies are fully monitored at home or at a clinic while they sleep. If diagnosed, they may undergo sleep apnea treatment with the sleep physician or with a skilled Bloomfield Hills dentist such as Dr. David Banda and his associates at Cranbrook Dental Care.
What causes sleep apnea?
Many factors contribute to sleep apnea, including:
age, typically 40 to 60 years old
gender (More men than women suffer from it.)
obesity
thick neck circumference
heredity
sinus problems and allergies
Obstructive Sleep Apnea treatment
Some OSA requires treatment with a bedside apparatus called a CPAP (Continuous Positive Airway Pressure) machine which forces the airway open with oxygen pumped through a face mask. Dentists near Troy, MI,  such as Dr. Banda and his colleagues, may treat other cases of OSA with a custom-made "snore guard" which places the lower jaw in a more forward position. Worn during  sleep, this appliance effectively opens the airway, stopping the vibrating noise we call snoring and allowing for free passage of air.
Together, Drs. Banda, Cheslin, Hane and Kane possess a wide range of dental skills and expertly evaluate and fit qualified patients for custom-fabricated sleep apnea snore guards. They perform complete oral exams on patients with snoring problems and also take complete medical histories, including current medical problems and medications. They ask about the patient's symptoms, when they started, and what seems to help alleviate them.
Do you snore and experience OSA symptoms?
Plenty of people do. So, don't be embarrassed about your condition or continue to compromise your health. Talk to your physician and to your Troy, MI dentist at Cranbrook Dental Care about sleep apnea treatment. Contact the friendly staff for your one-on-one consultation today.
Comments Off

on Needing sleep apnea treatment from your Troy, MI dentist?
No Comments
No comments yet.
RSS feed for comments on this post.
Sorry, the comment form is closed at this time.