July 31, 2013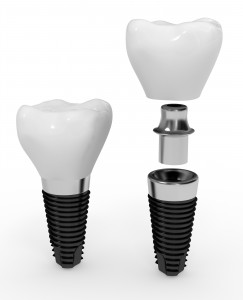 For some patients, dental implants are the perfect restorative option. Not every patient is automatically right for a procedure that involves dental implants, though. To support dental implants, you need to have enough bone density.
Patients who have had missing teeth for years, or who have had conventional braces for years, may find that they need help with bone grafting before they can seriously be considered for dental implants. That's because, over time and in the absence of one or more tooth roots, bone loss will occur. What a bone graft is designed to do is restore lost tissue so that a patient who wants dental implants can become a candidate for them.
Dr. David Banda has years of experience providing all phases of dental care, including surgical. That means that, when you come to Cranbrook Dental Care to learn more about bone grafting, you'll find a knowledgeable, experienced doctor eager to help you. With a thorough exam, he can help you determine if implants are right for you and if bone grafting would help. The treatment plan Dr. Banda creates will be completely customized to fit your needs.
Do you want to learn more about bone grafting and dental implants? Call Cranbrook Dental Care today with your questions or to schedule an appointment. Dr. Banda and his team are proud to offer all phases of dental implant care to patients of Bloomfield, Bloomfield Hills, Troy, Birmingham, Clarkston, Royal Oak, and the entire metropolitan Detroit area.
No Comments »
No comments yet.
RSS feed for comments on this post.
Leave a comment