October 21, 2023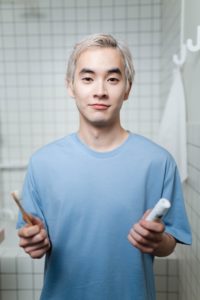 Veneers can turn the smile of your dreams into reality. You will enjoy noticeable results that can last for a decade or more. Many factors will affect the lifespan of your new smile, including the toothpaste you use. Don't let the wrong toothpaste damage your investment. Here's how to choose the best toothpaste to get the most from your veneers.
The Right Toothpaste Matters
Veneers can't get cavities, but your underlying teeth are still vulnerable to decay. Brushing and flossing are more important than ever before. Your toothbrush is the most used product you have at home to keep your mouth healthy. Besides using a soft-bristled toothbrush, here's what to look out for when choosing toothpaste:
Abrasive Toothpaste: Abrasive toothpaste can scratch your veneers, causing them to look discolored. Food particles and plaque can get trapped in the small crevices, damaging your restorations over time.
Whitening Toothpaste: Whitening toothpaste is abrasive and it may affect the bonding material holding your veneers in place. Not to mention, it can cause inconsistencies with your smile because whitening toothpaste can improve the color of your enamel, but it won't have any effect on your veneers.
Choosing the Best Dental Products
It's best to choose non-abrasive toothpaste that has earned the American Dental Association's Seal of Acceptance, which means it's undergone voluntary testing for safety and effectiveness. Brush your teeth at least twice a day for 2 minutes. Don't forget to brush your tongue. Floss between each tooth and around the gum line daily to remove any plaque or bacteria missed by your toothbrush.
Get the Most from Your Investment
Besides keeping your mouth clean and healthy, your cosmetic dentist will recommend breaking any bad oral habits that can damage your restorations, like chewing on your fingernails or using your teeth like scissors. Limit your consumption of sugars and starches, which feed cavity-causing bacteria. Avoid any hard or sticky foods that may damage your veneers.
Schedule a cleaning and checkup with your dentist every 6 months. They'll keep your teeth and gums healthy while helping you maximize the lifespan of your dazzling new smile.
About Dr. David G. Banda
Dr. Banda earned his dental degree at the University of Michigan and has regularly continued his education in various specialties to provide the most advanced solutions, like cosmetic dentistry and dental implants. He is affiliated with several professional organizations, including the American Academy of Implant Dentistry and the Academy of General Dentistry. Request an appointment on his website or call (248) 647-5434.
Comments Off

on Which is the Best Toothpaste for Veneers?
No Comments
No comments yet.
RSS feed for comments on this post.
Sorry, the comment form is closed at this time.