June 3, 2023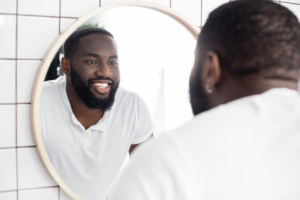 Our brain is perhaps the most important organ in our whole body—if our body is a ship, it is the captain in charge of everything and keeping things moving. But when most of us think about our brains, we fail to realize that the organ is closely connected to every single part of us, including our teeth and gums! This means that chronically poor oral health can lead to serious brain health consequences, including things like Alzheimer's disease if gum disease is left untreated. Keep reading to learn more about this, along with some tips from your trusted dentist for keeping your smile and brain in great shape.
The Link Between Brain Health & Oral Health
Alzheimer's is a complicated illness; scientists don't fully understand what causes it yet, but can at least link it to certain conditions and lifestyle factors such as genetics, age, and even oral health. The link between your brain and smile has to do primarily with gum disease; if left untreated, sub-gingival pockets can form between the teeth and gums, which become filled with harmful bacteria. Once this happens, it becomes nearly impossible to eliminate, and it becomes a matter of controlling the symptoms.
However, research shows that a certain type of bacteria found in these pockets, known as Porphyromonas gingivalis, was also heavily present in the brains of people with Alzheimer's disease. Tests on mice also showed how these bacteria were capable of spreading to the brain, where they destroyed neurons and reproduced many characteristics associated with Alzheimer's. This research is still ongoing, but the current findings absolutely highlight a connection between gingival bacteria and a heightened risk of brain health problems including Alzheimer's disease.
5 Useful Tips for Keeping Your Gums (and Brain) Healthy
The bottom line is that you can provide an awesome amount of protection for your brain by simply safeguarding your smile via regular oral hygiene. Preventing gum disease is easier said than done, but a little effort goes a long way! Here are five useful tips to consider:
Brush your teeth twice every day for two minutes each time using a soft-bristled toothbrush coupled with fluoride toothpaste.
Floss daily—this habit is arguably one of the best ways of preventing gum disease from taking its toll on your health.
Try to limit your consumption of sugary and acidic foods and drinks, and instead try to eat a nutritious diet and drink plenty of water.
Avoid harmful oral habits like smoking or using tobacco; these habits are notorious for causing a slew of health issues, including ones that negatively impact your mouth, lungs, heart, brain, and more.
Visit your dentist for routine preventive care, especially if you're showing signs of gum disease. These symptoms include redness, swelling, sensitivity, or gums that bleed easily.
It's important to note that gum disease isn't always what causes Alzheimer's, and there are several other factors in play when looking at the illness. However, studies clearly show a connection between gum disease and brain health that shows a healthy smile can yield positive benefits for one's brain!
About the Author
Dr. David G. Banda received his DDS from the University of Michigan and has proudly served patients and families in the Bloomfield Hills community for several years. He's a member of several notable professional dental organizations including the American Dental Association and the renowned Academy of General Dentistry. His practice is thrilled to offer a wide range of preventive, cosmetic, and restorative options. If you have any questions about the blog or you'd like to schedule a visit for you or a loved one, don't wait to contact his practice today. Telephone: (248) 647-5434.
Comments Off

on The Link Between Gum Disease and Brain Health
No Comments
No comments yet.
RSS feed for comments on this post.
Sorry, the comment form is closed at this time.