February 5, 2023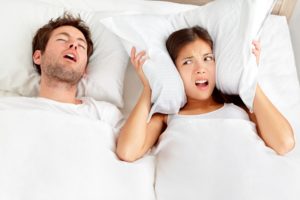 Everyone snores occasionally, like when battling a case of the sniffles. However, if the problem is ongoing, it can affect everyone in your home. If you toss and turn all night because of your partner's snoring, it might be enough to drive you to sleep on the couch. You're not the only one getting a bad night's rest. Chronic snoring can be a sign of obstructive sleep apnea, which can affect their health and quality of life. You can give your loved one the gift of snore-less sleep and better health with an oral appliance.
Snoring and Obstructive Sleep Apnea
Narrowing of the air passages causes snoring. The sound you hear is from vibrations as air passes over the tissues, which is why it's common if you have a stuffy nose. Most often, snoring isn't any reason for concern, but if it occurs more often than not, it can be a symptom of obstructive sleep apnea (OSA).
OSA is a sleep disorder that causes frequent breathing disruptions throughout the night. The soft tissues in the back of the mouth and throat collapse to block the airway, causing pauses in breathing. Snoring and sleep apnea go hand in hand because of the narrowing of the airway.
Unfortunately, snoring isn't the only complication of sleep apnea. Every breathing disturbance depletes the body of oxygen and interrupts the sleep cycle. With no treatment, sleep apnea can cause many serious physical and mental complications, like an increased risk of heart disease, sleep deprivation, depression, and memory loss.
Treating Snoring and Sleep Apnea
Although sleep apnea is common, up to 90% of cases aren't diagnosed because many people don't notice there's an issue because they are asleep, like snoring. If your partner snores excessively, it can be a sign of a larger problem.
They'll need to undergo a sleep study to confirm a diagnosis. If sleep apnea is the culprit, there are many options to treat the disorder, like a CPAP. A steady stream of air pressure is delivered through a mask worn over the mouth or nose to stop interruptions in breathing. While it's effective, an oral appliance is a patient-preferred solution.
An oral appliance benefits both snoring and sleep apnea. A custom-fit device holds the tongue and jaw in a more comfortable position to prevent an obstruction in the upper airway. It's a comfortable, convenient option for mild-to-moderate cases of obstructive sleep apnea.
Give the Gift of Better Health
You don't have to spend the night worrying about your partner's breathing. You and your loved one can have peace of mind with an oral appliance. You'll give them a gift that keeps on giving with better sleep and improved health.
About Dr. David G. Banda
Dr. Banda earned his dental degree at the University of Michigan and has regularly continued his education in advanced specialties, like dental implants and sleep medicine. He can treat sleep apnea and snoring with an oral appliance. Request an appointment through our website or call (248) 647-5434.
Comments Off

on Give the Gift of Snore-Less Sleep
No Comments
No comments yet.
RSS feed for comments on this post.
Sorry, the comment form is closed at this time.