January 19, 2023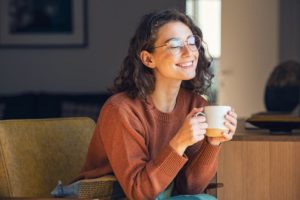 When it's time to visit your dentist for your six-month checkup, you often just think of your teeth. However, your gums are a very important part of your oral health, too! It's estimated that about 50% of people have some stage of gum disease. This is a serious condition that can lead to tooth loss and other health problems if left untreated.
While your dentist can offer services like scaling and root planing to keep gum disease from becoming worse, the best thing is to focus on preventing the infection in your mouth from forming. In addition to your daily dental routine, like brushing and flossing, there are certain foods and drinks that can help fight gum disease. Here are five great ones!
1. Green Tea
Green tea is an excellent beverage for fighting gum disease. It contains polyphenols, which are powerful antioxidants that can help reduce inflammation and protect against the bacteria that cause gum disease. Additionally, green tea can help reduce plaque buildup on the teeth. Not only will it help keep your pearly whites safe from cavities but protect your gums as well.
2. Apples
Red, green, or yellow? No matter what type of apple you like best, they are a great source of vitamins and fiber. These components can help reduce the buildup of plaque on your teeth, which leads to the bad bacteria that cause gum disease. In that same vein, apples contain malic acid, which can help reduce bacteria in the mouth. Time to grab an apple and peanut butter for your next snack!
3. Yogurt
Yogurt is a great choice for fighting gum disease because it contains probiotics, which can help reduce inflammation and protect against bacteria that cause gum disease. While also providing calcium that supports your teeth and jawbone, the other nutrients in yogurt also help to reduce plaque buildup on the teeth.
4. Salmon
Oily fish, like salmon, are rich and abundant in omega-3 fatty acids. This and other nutrients in salmon help your body keep inflammation to a minimum, which can either prevent gum disease from happening in the first place or combat an existing infection.
5. Red Bell Peppers
To fight off infection and inflammation, your body needs plenty of Vitamin C. While oranges and other citrus fruit are good sources, they are acidic–which means they can wear down your enamel. Red bell pepper to the rescue! They offer well over your daily recommendation of Vitamin C without posing the same risk to your pearly whites.
While gum disease does affect many people, there are things you can do to protect your mouth from bad bacteria and inflammation. By enjoying these delicious foods and drinks, you can keep your gums and teeth healthy for years to come!
About the Practice
Cranbrook Dental Care keeps the smiles of Bloomfield Hills healthy through the expertise of its team of dentists. They provide a full range of dental services, including preventive, restorative, cosmetic, and emergency care. With the use of personalized plans and advanced dental technology, they can help you with your oral health needs, including any stage of gum disease. To schedule an appointment, contact them through their website or call (248) 647-5434.
Comments Off

on 5 Foods and Drinks that Help Combat Gum Disease
No Comments
No comments yet.
RSS feed for comments on this post.
Sorry, the comment form is closed at this time.