November 24, 2022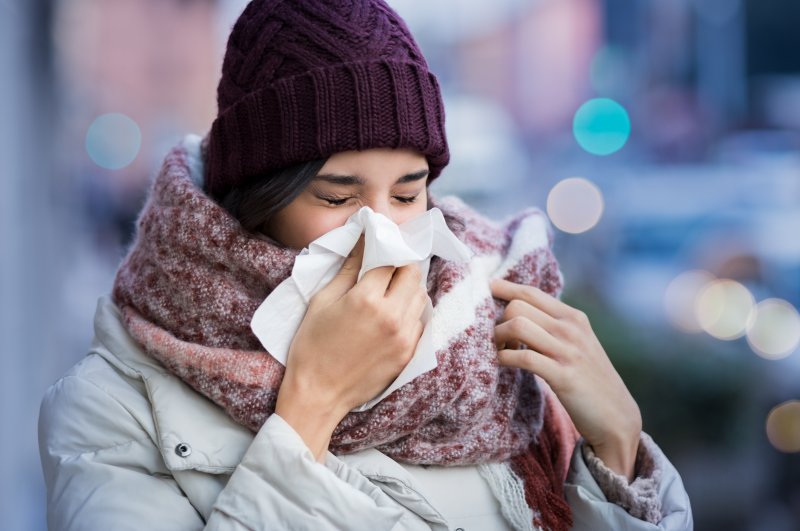 Have you started stocking up on hand sanitizers and other disinfecting products this time of the year? With the cold and flu season here, it can be difficult to prevent yourself from falling ill. If you're undergoing Invisalign treatment, you'll have to be especially cautious about how you handle your clear aligners. To avoid getting sick or risking any setbacks in your treatment, here are four tips on surviving the season while straightening your smile!
#1: Sanitize Your Clear Aligners
The last thing you want is to have your Invisalign braces covered in bacteria and viruses. One crucial way to prevent this is to clean your bright, protective storage case, either hand-washed or ran through the dishwasher. Saliva and moisture can end up accumulating where you store your aligners, allowing bacteria to grow. Be sure to brush both your smile and your clear trays. You can even soak them in water or a cleansing solution while you eat to keep them bacteria-free.
#2: Maintain Clean Hands
Since you'll be managing your clear aligners by hand, you'll need to make sure they're clean at all times. This means you should wash them thoroughly and frequently throughout the day, especially before taking your Invisalign trays in or out. By doing so, you'll avoid introducing germs into your mouth and around your aligners, which can easily result in you becoming bedridden.
#3: Drink Plenty of Water
Whenever the weather gets colder, your mouth is more likely to dry out. Without enough saliva production, you won't be able to naturally wash away the germs in your smile. However, by staying hydrated with water throughout the day, you can keep harmful bacteria from collecting around your teeth and aligners.
#4: Clean Your Workspace
Did you know that most desks are covered in about 400 times more germs than the average toilet seat? For this reason, you won't want to handle your clear aligners immediately after touching things around your workspace. Be sure to keep hand sanitizer nearby or disinfect your desk (and other areas that you touch frequently) before taking your Invisalign trays in or out. This way you won't transfer nasty or harmful germs into your mouth.
During the cold and flu season, you'll want to stay as clean as possible to avoid getting sick and setting back your Invisalign treatment process. Keep these tips in mind, and you should easily survive this time of the year while straightening your pearly whites!
About the Author
Dr. David G. Banda received his dental doctorate from the University of Michigan and has well over three decades of experience under his belt. He's also a proud member of various prominent organizations like the Academy of General Dentistry and the American Dental Association. He provides a vast collection of high-quality services, including Invisalign. If you'd like to know more ways to care for your Invisalign aligners, visit his website or call 248-647-5434.
Comments Off

on 4 Tips for Surviving Cold & Flu Season with Invisalign
No Comments
No comments yet.
RSS feed for comments on this post.
Sorry, the comment form is closed at this time.