November 11, 2022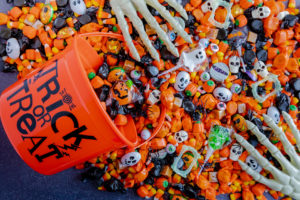 October 31st is just a few weeks away, which means Halloween is right around the corner! While the spooky season is always a fun time of year, it can be scary for your dentist. All that Halloween candy can threaten your oral health if you're not careful. However, with a bit of planning, you can navigate the fall festivities without dramatically increasing your risk of cavities. Keep reading to learn five ways to keep your Halloween sweet tooth at bay.
#1: Avoid Snacking
It can be tempting to reach into your candy bucket any time you pass by it during the day. However, snacking can increase your risk of cavities. Every time you eat something sweet, the bacteria in your mouth feast on sugar and produce harmful acids. For this reason, it's better to only eat Halloween candy alongside or shortly after a meal. Your body produces more saliva during a full meal, which helps clean the mouth and neutralize harmful acids.
#2: Choose Chocolate Over Sticky Candies
When it comes to oral health, not all candies are created equal. Sticky candies like caramel, taffy, and gummy worms cling to teeth. The longer sugar stays near your teeth, the higher the risk of tooth decay. Opt instead for chocolates or powdery candies, as these treats dissolve more rapidly in your mouth.
#3: Chew Sugar-Free Gum
Chewing sugar-free gum is another great way to stimulate saliva production. You can reduce your risk of tooth decay by chewing gum after snacking on Halloween candy. Your saliva will help protect your teeth by washing away bits of chocolate and other debris. Chewing sugar-free gum in place of candy is an even better way to reduce the risk of cavities.
#4: Donate Extra Candy
Do you really need an ENTIRE bucket full of candy? Why not donate a portion of your Halloween haul? Charitable organizations such as Operation Gratitude accept candy donations to send to troops serving overseas. In addition, many dentists have holiday take-back programs, in which you get a new toothbrush in exchange for a candy donation.
#5: Schedule a Dental Checkup
Finally, do not forget to schedule a routine dental checkup this spooky season! Biannual dental exams and professional cleanings are essential to maintaining a healthy smile. Regular checkups are also important because they give your dentist the opportunity to catch minor issues early on before they worsen.
Don't let this Halloween be a scary time of year for your teeth and gums. Follow the five tips above to maintain a healthy smile this fall.
About the Author
Dr. David Banda has over 25 years of experience helping patients achieve and maintain healthy smiles all year round. The proud University of Michigan graduate is a sought-after speaker in the dental industry and regularly contributes articles on dental health to the Observer/Eccentric Newspaper. For more tips to keep your sweet tooth at bay this Halloween, visit the Cranbrook Dental Care website or call 248-647-5434.
Comments Off

on 5 Tips to Keep Your Halloween Sweet Tooth at Bay
No Comments
No comments yet.
RSS feed for comments on this post.
Sorry, the comment form is closed at this time.