September 5, 2022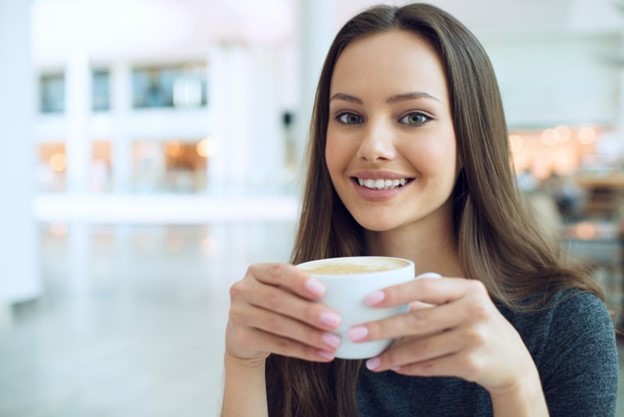 Whether you drink coffee in the morning, at night, or in the middle of the day, it's undeniable how popular this beverage is. Many people use coffee to help wake them up in the morning. Some use it to give them a boost to get through work or school. Regardless of why you drink this tasty beverage, National Coffee Day is the perfect time to celebrate it. So you can enjoy the day safely, read on to learn about how coffee and dental health are related.
Coffee and Dental Health: The Good
As good as coffee is, you can only reap the benefits of this beverage if you consume it in moderation. Coffee contains antioxidants. Scientists believe that antioxidants help reduce inflammation. Inflammation is a common sign of oral health issues like gum disease. This means that drinking coffee may be beneficial in lessening the impact of this condition. Additionally, coffee contains trigonelline. This can be beneficial in the prevention of cavities.
Coffee and Dental Health: The Bad
Though coffee may help prevent some dental health issues, it may also cause others. A few issues associated with coffee consumption include:
Tooth decay – Coffee is highly acidic. Acid damages your enamel, which is the outer layer of the tooth. This makes your smile more susceptible to cavities. Additionally, if you add sweeteners to your coffee, oral bacteria feed on them and release acids that add to this effect.
Stained teeth – Coffee has tannins in it. Tannins can stick to your enamel and leave it stained.
Dry mouth – Coffee consumption makes it hard for your mouth to produce saliva. This leads to dry mouth and makes you more likely to develop gum disease and cavities.
Bad breath – Dry mouth allows the bacteria that cause halitosis to thrive, which may cause you to develop bad breath.
5 Ways to Enjoy Coffee without Dental Damage
Fortunately, you can still enjoy your morning cup by following these three tips:
Practice moderation – Drinking coffee in moderation will lessen your risk of developing oral health problems.
Finish your coffee quickly – Drinking your beverage quickly means the tannins won't sit on your smile for too long.
Drink through a straw – This will lessen the amount of contact your coffee has with your smile.
Eat mouth-healthy foods – Fresh, crisp fruits and vegetables, dairy products, lean meats, and fish are all tooth-healthy foods.
Keep your teeth clean – Brush twice and floss at least once per day. You may also want to clean your smile 30 minutes after finishing your coffee to lessen its negative effects.
This National Coffee Day, be careful with how you celebrate. This will allow you to keep the relationship between coffee and dental health a positive one and end your day with a healthy smile and a belly full of your favorite drink!
About the Author
Dr. William D. Cheslin, Dr. David G. Banda, Dr. Lisa Kane, and Dr. Peter Namou are the skilled dentists who lead the team at Cranbrook Dental Care. Their practice is located in Bloomfield Hills and administers effective, compassionate care. They can teach you about how different foods and drinks impact your smile, such as the relationship between coffee and dental health. This will help you keep your smile healthy and bright! Visit Cranbrook Dental Care's website or call (248) 647-5434 to learn more about their practice or to set up an appointment.
Comments Off

on How Coffee and Dental Health Are Connected
No Comments
No comments yet.
RSS feed for comments on this post.
Sorry, the comment form is closed at this time.