January 21, 2022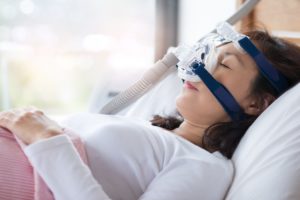 Over 8 million Americans use CPAP machines to treat sleep apnea. If you're among the 22 million adults in the U.S. living with the condition, you may be one of them. It is effective in preventing obstructions in your upper airway to ensure there aren't any interruptions in your breathing. While there are many brands on the market, Philips is a leading provider of CPAP machines; however, some devices are being recalled. If the recall has affected you, there is an alternative using an oral appliance.
Philips Respironics Recalls CPAP Machines
Recently, Philips has had to recall over 2 million CPAP machines in the U.S. The devices contain chemicals in the foam used to reduce the vibrations and sounds emitted by the device. The foam can break down and cause long-term health issues when inhaled.
Philips is advising people to continue their sleep apnea treatment because the benefits outweigh the potential risks. Despite their recommendations, it's normal to have concerns about using a defective device. You don't have to lose sleep at night choosing between your recalled CPAP or going with no treatment. An oral appliance is the ideal alternative to breathe a little easier.
Cut Ties with Your CPAP Machine
An oral sleep appliance may look like an athletic mouthguard; however, it serves a different purpose. The custom-fit appliance repositions the lower jaw or tongue to prevent the soft tissues from blocking the airway. It has over a 90% success rate when used regularly by patients with mild-to-moderate obstructive sleep apnea.
The FDA and the American Academy of Sleep Medicine support oral appliance therapy as a safe alternative to a CPAP. The small appliance resolves many common complaints associated with CPAPs for higher patient compliance. You will enjoy a variety of benefits, including:
Smaller and quieter
Comfortable, convenient treatment
Easy maintenance and care
High-quality, durable materials
Sleep Peacefully Tonight
Don't place your health at risk waiting for your recalled CPAP to be repaired or replaced. You can sleep soundly using an FDA-approved solution. Benefit from the safety and effectiveness of oral appliance therapy.
About Dr. David G. Banda
Dr. Banda earned his dental degree from the University of Michigan before continuing his training in sleep dentistry. Besides focusing on implant placement, he offers other specialty services, including sleep apnea therapy. If you're ready to make the switch from a CPAP, contact our office today to see if you're a candidate for oral appliance therapy.
Comments Off

on Recalled CPAP? Choose an Oral Appliance for Sleep Apnea
No Comments
No comments yet.
RSS feed for comments on this post.
Sorry, the comment form is closed at this time.