December 16, 2021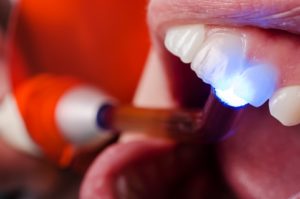 Dental bonding is a versatile treatment that provides both restorative and cosmetic benefits. Whether you've chipped a tooth or had a cavity, it provides a quick fix for minor restorative and aesthetic flaws using a composite material that blends in with your enamel. Although dental bonding can last for years, it can discolor if you're not careful. Unfortunately, you can't use whitening toothpaste to revamp your smile. If you want to whiten bonded teeth, here's what you need to know to reach your goals.
Can You Whiten Dental Bonding?
The composite resin material used for dental bonding can be shaded to match your enamel perfectly. Only a dental professional will be able to spot the material. Although it may look like part of your tooth, it differs from your enamel because it is nonporous.
Your enamel is porous, which means stain-causing factors can penetrate the outer layer of the tooth. It can change color over the years, such as from age or poor oral hygiene; however, it can also be caused by the foods and drinks you consume. Although bonding material isn't porous, it contains plastic. As with any plastic material, it can stain or discolor.
Whitening treatments can penetrate your enamel through the pores, making them effective in treating stains and discoloration. Since dental bonding doesn't have any pores, whitening agents won't have any effect on it, creating significant color contrasts between the bonding and enamel.
Options for Whitening Bonded Teeth
If you want a brighter smile, the best time to have a whitening treatment is before applying the bonding. This ensures your teeth are their whitest, as your dentist shades the resin. Your smile can stay vibrant for years by committing to your oral hygiene at home and visiting your dentist regularly. It's also best to avoid anything that may stain your teeth, like darkly pigmented foods and drinks or smoking.
If color inconsistencies occur over time, your dentist can revamp your smile using a customized treatment plan, which can include replacing the bonding material to match the color of your teeth. This is advisable for patients who have bonding that's over 10 years old because it will likely need to be replaced soon.
Patients interested in a more permanent solution can benefit from a veneer. The thin porcelain shell covers the entire front surface of a tooth using the stain-resistant material. Your dentist will explain all your options to resolve your aesthetic concerns. You'll have a bright, confident smile you'll want to share with others.
About Dr. David G. Banda
Dr. Banda earned his dental degree from the University of Michigan before completing advanced training from The Misch Implant Institute. He has received various awards throughout his career and is a proud member of multiple professional organizations, like the American Academy of Implant Dentistry. He has the reputation and qualifications you can trust for advanced specialties, like cosmetic dentistry. If your dental bonding needs to be replaced, contact our office today to schedule your consultation.
Comments Off

on Is Teeth Whitening Effective on Bonded Teeth?
No Comments
No comments yet.
RSS feed for comments on this post.
Sorry, the comment form is closed at this time.