November 14, 2021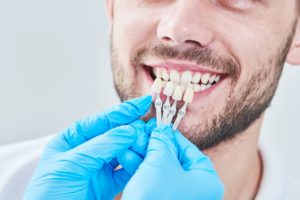 Society attributes a bright white smile to youth, intelligence, and success. Not to mention, nothing feels better than the confidence that comes along with a vibrant smile; however, teeth come in endless shades and tones. Not everyone is born with naturally white teeth. Genetics largely contributes to their color, but are your genes the only culprit? Stained teeth can be caused by various factors, but you don't have to feel embarrassed by discoloration any longer. Your cosmetic dentist has the solutions you need for an Instagram-ready smile.
Top Causes of Stained Teeth
If you have anxiety about the color of your teeth, you're not alone. A recent study by the University College Hospital, Ibadan found 9.8% of people are concerned about stains and discoloration. Of the people surveyed, 86% of stains were preventable, which means they were caused by external factors, like improper oral hygiene habits. Although genetics can play a role in the color of your enamel, various factors influence the vibrancy of your pearly whites, including:
Age
The color and structure of your tooth change over time. Years of exposure to acidic drinks, aggressive brushing, or daily wear and tear weakens the enamel. As it thins, more of the underlying yellowish dentin becomes visible, causing your teeth to look off-color.
Poor Oral Hygiene
Improper brushing and flossing habits can cause plaque and tartar buildup on the teeth, which can lead to brown or yellow stains.
Lifestyle Habits
Many stains are caused by certain lifestyle choices, like drinking a lot of coffee or smoking. Darkly pigmented foods and drinks can stain your enamel, as well as tobacco.
Fluorosis
Fluoride is necessary for strong, healthy teeth; however, too much can lead to a cosmetic condition called fluorosis. White spots or streaks can appear on their surfaces, making the color inconsistent.
Medications
Certain medication exposure while in the womb or during early infancy can cause the teeth to look grey. Antibiotics are a leading cause of extrinsic stains.
Dead Tooth
A single grey or black tooth is not a good sign. It often means the tooth has died from infection, trauma, or another issue.
Reveal Whiter Teeth
You can't always blame tooth discoloration on your family genes. Whether genetic or not, your cosmetic dentist will identify the cause of the stains to create an effective treatment plan to enhance your smile. Intrinsic, or surface stains, can be resolved with a whitening treatment, while discoloration originating from the tooth's structure will require a different approach, like veneers.
You don't need to hide behind a dark, discolored smile. Your cosmetic dentist can boost your self-esteem and reveal whiter teeth using the latest innovations in dentistry.
About Dr. David G. Banda
Dr. Banda earned his dental degree from the University of Michigan before continuing his training in implant surgery and prosthodontics. As a lifelong learner, he has qualifications in many specialties, including cosmetic dentistry. If you're ready to achieve a smile that you'll be proud to show off, contact our office today to schedule your consultation.
Comments Off

on Are Stained Teeth Genetic?
No Comments
No comments yet.
RSS feed for comments on this post.
Sorry, the comment form is closed at this time.