September 9, 2021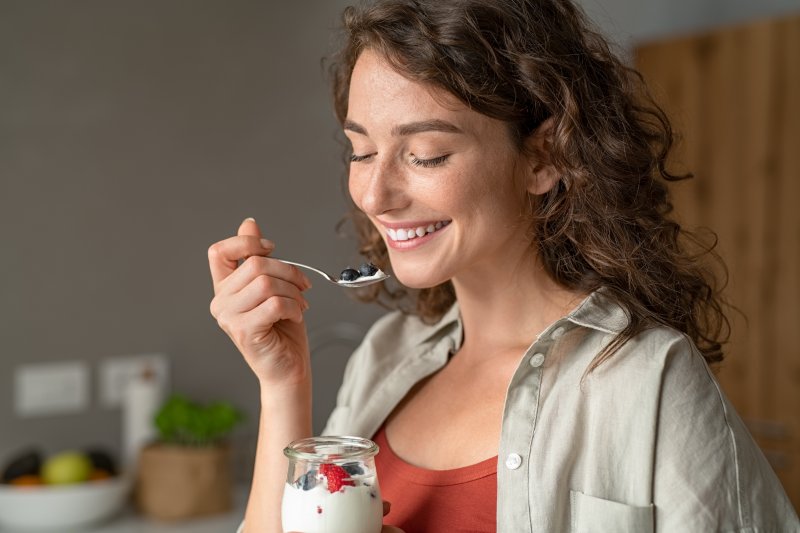 Bad breath, or halitosis, can make you feel self-conscious about what others think of you. Though removing certain foods from your diet may seem like a logical solution, have you ever considered incorporating new ones? By adding yogurt to your daily diet, you may be able to keep your issues with bad breath under control and start feeling more confident in your overall oral health.
Causes of Bad Breath
Hydrogen sulfide, which is stored in different parts of the mouth, is a known cause of bad breath. It's characterized by a foul, unpleasant odor and can be produced in the mouth and intestines. To most people, it smells like rotten eggs! Bad breath can result from several factors, but some of the most common causes include:
Dry out your mouth caused by certain medications, lifestyle choices, and health issues
Foods and drinks like garlic, onions, coffee, and some spices
Some cancers and metabolic disorders
Using tobacco products
Mouth infections resulting from tooth decay, surgical wounds, mouth sores, or gum disease
Plaque buildup
How Yogurt Can Help Fight Bad Breath
Researchers recently presented their findings on a study regarding the impacts of yogurt on bad breath at the International Association for Dental Research in Baltimore. They found that eating six ounces of yogurt on a daily basis can reduce the levels of odor-causing compounds in the mouth by a significant margin.
They chose 24 healthy volunteers and asked them not to eat yogurt or any foods with the same beneficial bacteria for two weeks. Then, they took tongue coating and saliva samples from the volunteers to measure the levels of odor-causing compounds and bacteria in their mouths before asking participants to eat three ounces of yogurt twice per day for six weeks. Researchers then took samples from the participants and found an 80% decrease in odor-causing compounds. Yogurt is also rich in Vitamin D which helps keep our digestive tracts in order and reduces the growth of bacteria in our bodies to help prevent bad breath.
Besides being an excellent source of calcium, incorporating low-sugar, fat-free yogurt into your diet can also help freshen your breath. By eating just six ounces per day, you may have a permanent solution to halitosis that will make you want to smile from ear to ear!
About the Practice
At Cranbrook Dental Care, Dr. Banda, Dr. Cheslin, Dr. Kane, Dr. Girgis, and their compassionate, professional team provide the residents of Bloomfield Hills with the highest quality dental care available. They pride themselves on educating their patients on how to take care of their teeth for a beautiful smile that will last a lifetime. They are committed to continuing their education so they can stay up to date with the newest techniques to treat their patients. To learn more about the ways yogurt can aid in your battle with bad breath, visit our website or call us at (248) 647-5434.
Comments Off

on Learn How Yogurt Can Help in Your Fight Against Bad Breath
No Comments
No comments yet.
RSS feed for comments on this post.
Sorry, the comment form is closed at this time.