August 4, 2021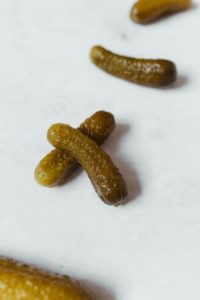 There isn't any debating when it comes to pickles. You either love them, or you hate them. If you can't resist a crisp, juicy pickle, you might unknowingly harm your oral health. Despite their many health benefits, pickles are not good for your teeth. You don't need to cut pickles from your diet. Instead, your dentist recommends a few precautions to enjoy your treat without compromising your smile.
Why Are Pickles Bad for Teeth?
Pickles are acidic, which means they have a low pH balance that can damage your enamel. Your enamel is the harder outer layer of your tooth that protects the softer dentin and pulp. It's the hardest substance in your body, but it isn't indestructible, and it can't regenerate. Therefore, once you've lost enamel, it is gone for good, leaving your smile vulnerable.
The high acid levels in pickles will slowly erode your enamel, which is largely due to the vinegar that's used while they are processed. Their sour flavor is a good indicator of their acidity from the ingredient. Although eating a single pickle won't instantly harm your teeth, frequent and long-term snacking on them can weaken your enamel.
As your enamel thins, you might develop tooth sensitivity because the barrier insulating the dentin will be compromised. The uncomfortable sensation isn't the only complication. Your teeth can also take on a yellowish appearance because your dentin will be more visible through your enamel. The more enamel you lose, the greater your risk of tooth decay.
Safeguard Your Smile from Pickles
You don't have to eliminate pickles from your life to keep your teeth healthy and beautiful. Instead, you can use a few simple tips to savor your sour treat while protecting your dental health, such as:
Don't Brush Right Away: It's not good for pickle juice to sit on your teeth, but you don't want to brush them right away. The acid will leave your enamel temporarily weakened, which can cause more damage. Instead, wait at least 30 minutes before reaching for your toothbrush.
Alternate Foods: If you know you're going to eat pickles, try to add a nonacidic food to combat the negative effects, such as low-fat cheese.
Chew Sugarless Gum: Sugarless gum containing xylitol is a great way to neutralize the acid in your mouth. Chewing gum stimulates your saliva production to cleanse your teeth.
Visit Your Dentist: Besides caring for your smile at home, don't forget to visit your dentist at least twice a year for a cleaning and checkup. They can detect the early signs of enamel erosion to keep your teeth strong and healthy.
Pickles don't have to leave a bad taste in your mouth. You can enjoy their crisp crunch while also supporting your dental health.
About Dr. David G. Banda
Dr. Banda earned his dental degree from the University of Michigan before completing advanced education in implant surgery. He uses the latest techniques and technologies to provide superior services. If you're ready to benefit from modern dental care, contact our office today to schedule an appointment.
Comments Off

on You Can Enjoy Pickles and a Healthy Smile
No Comments
No comments yet.
RSS feed for comments on this post.
Sorry, the comment form is closed at this time.