March 17, 2021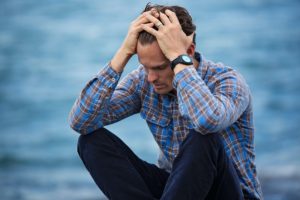 At least 18 million Americans live with sleep apnea. It causes several pauses in breathing frequently while sleeping, which is most often caused by an obstruction in the airway. Chronic snoring is one of the most noticeable symptoms, but that's not the only complication that can occur. If sleep apnea isn't treated, it can negatively affect your physical and mental health. New research has found a direct connection between the sleep disorder and depression. If you're feeling less than your best, here's how you can tell if sleep apnea is the cause.
What is Sleep Apnea?
There are multiple forms of sleep apnea; however, the most common culprit is a blockage in the airway. While sleeping the soft tissues in the back of your mouth or tongue can relax and create an obstruction. You can experience potentially hundreds of interruptions in breathing each night. With each event depleting your body's oxygen levels, it can lead to several complications, including:
Daytime fatigue
High blood pressure
Cardiovascular disease
Type 2 diabetes
Metabolic syndrome
Surgical complications
Memory loss
Loss of concentration
Sleep deprivation
Mood changes
What's the Connection Between Sleep Apnea and Depression?
According to a new study in the Journal of Clinical Sleep Medicine, 70% of sleep apnea patients have depression symptoms. As a result, there is a concern that either condition might be misdiagnosed or overlooked. The conditions share risk factors and symptoms that overlap, so patients may not realize they are having signs of both issues.
Sleep Apnea Symptoms VS Depression Symptoms
Since the symptoms of the two conditions can be similar, it can be difficult to distinguish between the two. Symptoms of sleep apnea often include:
Loud snoring
Breathing cessation
Waking with shortness of breath
Attention problems
Excessive daytime fatigue
Morning headaches
Waking with a sore or dry throat
Irritability
Difficulty sleeping
Symptoms of depression vary, including:
Irritability, frustration, or anger
Feelings of sadness, emptiness, or hopelessness
Sleep disturbances
Fatigue
Headaches
Difficulty concentrating
How Can I Treat Sleep Apnea?
Thankfully, research shows sleep apnea therapy can improve symptoms of depression and anxiety. A CPAP machine is the most traditional treatment, which is a machine that delivers a steady stream of air through a mask worn over the mouth or nose. As an alternative to a CPAP, an oral appliance is an effective solution to reposition the lower jaw forward to keep the airway open. It can significantly reduce sleep apnea symptoms by preventing pauses in breathing.
Feel Your Best Today
If you aren't treating your sleep apnea, you can breathe easier and sleep soundly using an effective solution. You may also improve any symptoms of depression to help you feel rested and ready to start the day.
About Dr. David G. Banda
Dr. Banda earned his dental degree at the University of Michigan and completed advanced training in many specialties, like dental implants and sleep disorders. He provides personalized solutions to treat sleep apnea in Bloomfield Hills. If you have untreated sleep apnea, contact our office today to schedule a consultation.
Comments Off

on Can Sleep Apnea Cause Depression?
No Comments
No comments yet.
RSS feed for comments on this post.
Sorry, the comment form is closed at this time.