February 3, 2021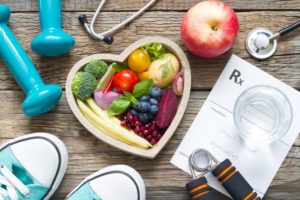 Did you know that February is American Heart Month? Every time you visit your dentist for a checkup and cleaning, you probably regularly hear them rambling about how your oral health impacts different areas of your body, like your cardiovascular system. Without the proper at-home oral hygiene plan in place, it could put your physical health at-risk. The first step to take towards ensuring you're healthy and happy is learning more about the small ways in which you can protect your smile as well as your heart. Read on to learn about how these two parts of your body are connected and what you can do to keep them both healthy.  
Unraveling the Connection Between Gum Disease & Oral Health
Several studies have uncovered a connection between one of the most common oral health problems in the country and heart problems. The Centers for Disease Control and Prevention estimates that one out of every two adults in the United States is affected by gum disease, which is an oral infection that attacks the gum tissue.
In its earliest stages, when someone may experience swollen or bleeding gums when they brush or floss, with the right at-home oral hygiene routine, the condition can be reversed. However, when gum disease is left to progress, resulting in a buildup of harmful oral bacteria that can erode the supporting structures of your smile, the symptoms can only be managed.
Once harmful oral bacteria accumulate, their toxins can spread throughout the body, impacting your cardiovascular system and increasing your risk of coronary heart disease as a result of the swelling that they cause. When the blood vessels are inflamed and become narrower, a blood clot may form, ultimately resulting in a heart attack. People who have gum disease are two to three times more likely to experience these health-altering cardiovascular events.
What Can You Do to Keep Yourself Healthy?
It's important that your mouth doesn't become a breeding ground for these bacteria, and by sticking to these helpful tips, you can reduce your risk of developing heart disease:
Know your risk factors. Age, diet, and genetics all play a role in your likelyhood of developing gum disease. If you're aware of any specific factors that put you at a higher risk of gum disease, discuss them with your dentist.
Don't put off your bi-annual checkups and cleanings. Every six months, schedule and go to your checkup and cleaning so your dentist can stop the progression of any lingering oral issues before it becomes too late.
Take the time to thoroughly floss. Floss at least once every day to prevent bacteria and food debris from accumulating in the mouth.
Make the steps to quit using tobacco. Smoking or chewing tobacco can drastically increase your risk of developing medical conditions and gum disease. Take the steps to quit.
Improving your health sounds like a long journey, but by putting the work in to commit these acts into habits, you'll be able to sleep easier at night knowing that you're doing everything you can to keep your body and mind healthy and happy.
About the Practice
Our team at Cranbrook Dental Care is comprised of experts that are truly passionate about ensuring the health and wellness of their patients. Each dentist takes continuing education courses regularly to stay up-to-date with the latest advancements in their field, and they take the time to listen to each patient's concerns about their oral health. The result: making sure that every patient receives custom-tailored treatments that have a positive effect on their lives. For questions or to schedule a checkup to learn whether you could be suffering from the early signs of gum disease, visit Cranbrook Dental Care's website or call 248-647-5434.
Comments Off

on Uncover the Connection Between the Heart & Mouth This February
No Comments
No comments yet.
RSS feed for comments on this post.
Sorry, the comment form is closed at this time.