December 15, 2020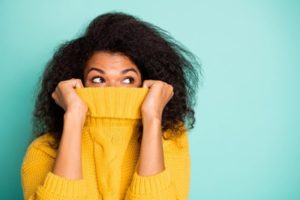 With cold weather comes delicious hot chocolate and snuggling under cozy blankets, but for some, it also means winter mouth issues. A chilly gust of wind can sting your face, but if you have sensitive teeth, it can also cause terrible dental pain. Read on for a list of common winter mouth problems and how to minimize them.
Tooth Sensitivity
Sensitive teeth can be the result of tooth decay, teeth with chips or fractures, exposed roots or eroded enamel. Your best bet is to visit your dentist in Bloomfield Hills at the first sign of pain so they can determine the best plan of action. But if you're unable to into the office, one way to treat this painful condition at home is to use desensitizing toothpaste or mouthwash. With frequent use, the active ingredients in these items can block pain signals to your dental nerve and protect it from hot and cold sensations. Fluoride toothpaste is another great option that can help strengthen weakened enamel and help fight tooth decay and prevent sensitivity.
Canker Sores
Canker sores can suddenly show up on or under your tongue, on your gums, on the inside of your lip or even on the inside of your cheek. These ulcers can be the result of drinking items like apple cider or eating foods like figs or lemons, all of which have high levels of acidity. Dabbing a bit of manuka honey on the sore can help reduce the size, pain and irritation of a canker sore. You can also mix one teaspoon of salt and a half-cup of warm water and swish it around in your mouth for about 15 to 30 seconds. This will clean the sore and help speed up the healing process.
Dry Mouth
If you take medications that cause you to experience cottonmouth, cold air can amplify that feeling. Outside of it being very uncomfortable, dry mouth gives the cavity-causing acids in your mouth the perfect environment to wear away at your enamel. Drinking plenty of water every day can help minimize the feeling of dry mouth and keep harmful bacteria at bay.
Chapped Lips
Though dry, cracked lips can happen any time, it's especially prevalent during winter. Using a humidifier can help fight chapped lips and dry mouth. This device circulates moisture through the air, helping your skin retain its moisture. But more importantly, hydrating your skin from the inside out is the best way to battle chapped lips and any other winter issue dealing with dryness.
Protecting your skin and mouth during the winter months with these tips can help reduce your winter mouth troubles and help keep your oral health in good shape. That way, you can finally get back to enjoying the snow and holiday cheer.
About the Author
The team of dentists at Cranbrook Dental Care is dedicated to providing each patient with high-quality, comprehensive dental care. Each treatment plan is personalized to treat each individual need and put patients on the path to healthy, beautiful smiles. They offer a wide range of services that include cosmetic dentistry, preventive dentistry and much more. If tooth sensitivity is making winter unbearable, contact the office at (248) 647- 5434 or visit the website to schedule a visit today.
Comments Off

on Common Winter Mouth Woes and How to Fight Them
No Comments
No comments yet.
RSS feed for comments on this post.
Sorry, the comment form is closed at this time.