October 2, 2020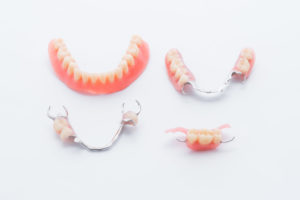 Are you missing most or all of your teeth? You are not alone. According to the American College of Prosthodontists, more than 36 million Americans do not have any teeth. Missing even a single tooth can lead to major embarrassment, not to mention oral and overall health problems. Fortunately, your dentist may be able to restore your smile with dentures! This popular restorative treatment is recognized as one of the most affordable ways to replace missing teeth. Want to know how much dentures will cost you? Keep reading to learn about the various factors that impact the cost of dentures in Bloomfield Hills.
Factor #1: Materials Used
Just like there is a significant price difference between cotton and cashmere, the type of material used to create your dentures will contribute to the final costs.
The most economical dentures use the same basic plastic for both the false teeth and gum-colored base. Although these types of dentures may cost you less up front, they will likely need to be replaced every couple of years due to wear and tear.
High-quality dentures, meanwhile, often use an acrylic body paired with either acrylic or porcelain teeth. Dentures fashioned from acrylic and porcelain tend to look more natural and last longer than lower-cost alternatives.
Factor #2: Type of Denture
There are also different types of dentures available, depending on whether you are missing several or all of your teeth. Each type of denture comes with a different cost.
Partials
Partial dentures, also known as partials, can replace several missing teeth at once. They are typically made up of prosthetic teeth, a gum-colored plastic base and metal framework. Partials rely on metal clasps that attach to nearby healthy teeth to stay securely in place.
Full Dentures
Full dentures are designed to restore an entire row of missing teeth. This common dental prosthetic sits on top of the gums and stays in place through natural suction or with the aid of denture adhesive. Full dentures often, though not always, cost a bit more than partial dentures.
Implant-Retained Dentures
Implant-retained dentures are anchored directly in the jawbone and replace both the tooth roots and missing teeth. Although usually more expensive than traditional dentures, they can last for decades with proper care.
Factor #3: Preparatory Treatment
Finally, any preparatory treatment needed will contribute to the final cost of dentures in Bloomfield Hills. If you have gingivitis, for example, you will likely need to undergo gum disease therapy before you can start wearing dentures.
If you need dentures but still have a few remaining teeth that are beyond restorative care, your dentist may recommend removing them. Tooth extraction will impact the final cost of treatment.  
From the ability to eat a healthy, balanced diet to feeling more self-confident, the importance of having a complete set of teeth cannot be overstated. Talk to your dentist today to see if dentures can help you reclaim your full smile!
About the Author
Dr. David Banda helps rebuild patient smiles in Bloomfield Hills with crowns, dentures, dental implants and more. The University of Michigan graduate is an active member of the American Dental Association and many other reputable dental health organizations. To learn more about dentures and other options to replace missing teeth, visit the Cranbrook Dental Care website or call 248-647-5434.
Comments Off

on These 3 Key Factors Impact the Final Cost of Dentures
No Comments
No comments yet.
RSS feed for comments on this post.
Sorry, the comment form is closed at this time.