May 13, 2020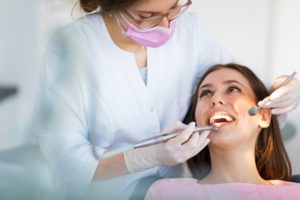 Life during the COVID-19 pandemic has everyone taking extra precautions to stay safe. As they start to reopen, dental practices around the country are going to great lengths to ensure the health and safety of their patients during appointments. Many of these new protocols take place before patients even set foot in the door. Learn what your dentist in Bloomfield Hills, MI is doing to give you the treatment you need in a comfortable, sterile environment.
1.) Nominating an Infection Control Coordinator
An Infection Control Coordinator (ICC) is responsible for monitoring all activity around the office and making sure that all safety practices are followed to the letter. They regularly check to ensure that all operatories and dental instruments are sterile and spotless. It's important not to cut corners when safety is involved and the ICC makes sure that each team member is doing their part.
2.) Daily Health Screening
Team members receive a health check before the start of business every day. This consists of a no-touch temperature check as well as a short questionnaire to test how likely it is that they've recently been exposed to the coronavirus. Patients receive this same test before their appointments to make sure that everyone in the office is at minimal risk of spreading the disease.
3.) Safer Clothing Practices
Before the pandemic, it was common for dental team members to wear their scrubs home at the end of the day. Now, to avoid contamination, all dental personnel change into and out of their freshly cleaned scrubs at the office. This prevents them from accidentally picking up germs if a team member were to run an errand in public after work.
These three cautionary measures just barely scratch the surface of all of the new safety standards that dental teams are putting in place. From stricter sanitation practices to changing how they schedule appointments, practices are not messing around when it comes to the coronavirus. The next time you go in for an appointment, you can rest assured that they are doing absolutely everything they can to protect you.
About the Author
Dr. David G. Banda takes the health and safety of his patients very seriously. Since getting his Doctor of Dental Surgery degree from the University of Michigan, he has committed to continuing his education and learning as much about the dental field as possible. He has studied at some of the most prestigious dental centers, such as the Misch Implant Institute, and has received honors from such organizations as the International Congress of Oral Implantologists, the American Academy of Implant Dentistry, and the Academy of General Dentistry. If you would like to find out more about how Cranbrook Dental Care is keeping patients safe, they would love to speak with you. Give the office a call at (248) 647-5434 or contact them through their website
Comments Off

on Always Prepared: 3 Steps Your Dental Team Takes to Keep You Safe
No Comments
No comments yet.
RSS feed for comments on this post.
Sorry, the comment form is closed at this time.