December 10, 2019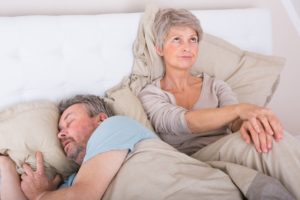 Are you a loud snorer? If so, there is a chance that you have obstructive sleep apnea (OSA), which is the most common form of sleep apnea. The condition is becoming more prevalent among Americans, as over 17 million people are currently suffering from OSA. While it can contribute to a host of other health issues, there is new evidence that if you're dealing with sleep apnea in Bloomfield Hills, it can also impact the people who live around you. As you continue reading, learn about the life disruptions that untreated OSA can pose for you and your loved ones.
What is OSA?
If you're suffering from OSA, it's because of a partial blockage of your airway while you sleep. It can stem from increased neck girth from excessive weight gain or your tongue falling to the back of the mouth while you sleep. The restricted airflow can result in frequent lapses in breathing that can trigger your brain to send distress signals that can cause you to wake-up hundreds of times throughout the night. The frequent interruptions can leave you deprived of the full benefits of a night of sleep.
Untreated, the condition can make you more susceptible to serious health problems like heart disease, stroke, diabetes, hypertension and obesity. Unfortunately, OSA can also cause issues in the lives of the people you care about.
How OSA Can Affect Your Loved Ones
As noted earlier, people with OSA will typically be loud snorers. The disturbing sound, which is the result of the throat muscles vibrating as air attempts to pass, can make it impossible for a spouse or partner to sleep peacefully, sometimes forcing them to rest in another room.
For men, the condition can especially have a negative impact on their sex life, as one of the possible side effects is impotence. Furthermore, statistics show that people with untreated OSA have greater rates of hospitalization and higher healthcare costs, which can place an added burden on a person's loved ones as well.
Recognizing the Warning Signs
If you've noticed any of the following symptoms, you may have OSA:
Impotence
Bed wetting
Mood swings
Daytime lethargy
Morning headaches
Morning throat soreness
At the first notice of any of these warning signs, you should reach out to your physician so you can take a sleep test. If you're diagnosed with OSA, then a sleep dentist can provide non-surgical sleep apnea therapy. Your options are to be treated with a cPAP nasal mask, custom dental appliance or a combination of both.
By taking action and receiving treatment for OSA, you can make life a lot better for you and your loved ones.
About the Author
Dr. David G. Banda earned his dental degree from the University of Michigan. Throughout his career, he has maintained a thirst for learning and staying abreast of the latest advancements in dentistry. Thus, he holds current membership with several professional organizations, including the Academy of General Dentistry, the Oakland County Dental Association and Chicago Dental Society. Dr. Banda treats OSA at Cranbrook Dental Care, and he can be reached for more information through his website.
Comments Off

on How Sleep Apnea Can Impact Your Health and the People You Love
No Comments
No comments yet.
RSS feed for comments on this post.
Sorry, the comment form is closed at this time.