February 7, 2018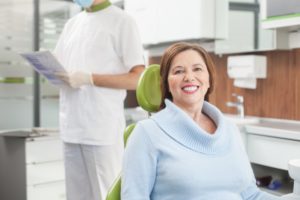 If you've decided to get dental implants in Bloomfield Hills, you have an exciting road ahead of you! When all is said and done, you'll have a beautifully restored smile that is strong enough to stand up to all of your favorite foods. Before you can sit back and enjoy your new teeth, though, you'll have to have surgery so a skilled dental health professional can install your implants. Here are some tips to help you be as comfortable as possible while your body heals after your procedure.
Be Patient
Your dentist may have already informed you that the entire process for getting implants and the new teeth that go with them can last anywhere from a few months to a year. One of the reason why the process takes so long to complete is because your body requires time to bond with your implants. This step of your implant journey, known as osseointegration, is vital because it allows your restored smile to have the strongest base possible.
Focusing on the benefits of your implant procedure instead of complaining about a lengthy recovery period will help time fly by.
Follow Your Surgeon's Instructions
The surgeon who installs your implants will give you detailed information on how to care for yourself after the procedure. Be sure to take any medicine they prescribe, which may help prevent infections and reduce any pain you experience.
They may also suggest some foods for you to gravitate toward. You don't want to irritate your gums or risk damage to your implants by munching on foods that have hard crumbs (like croutons) or eating anything that requires a lot of chewing. Try to stick to soft foods and liquids.
Take It Easy
Surgery, even if it's just in your mouth, can zap you of energy. Don't push yourself back into your normal routine right away. Set aside at least a couple of days to lounge on the couch and watch your favorite TV shows. When you have more energy, it's still a good idea to limit your physical activity for a week or two just so your body has time to regain its strength and stamina.
Stay Cool
You may experience some swelling after surgery. A cold compress, such as an ice pack, will be able to help with this. Swelling will likely be at its worst in the days right after the surgery, but you may still need to apply ice occasionally for a couple of weeks.
Keep Your Follow-Up Appointments
It's important that you visit your dentist in Bloomfield Hills for follow-up appointments after your surgery. They'll need to check on how your body is interacting with your implants, and they may offer extra advice on how you can increase the chances that your new smile will be a resounding success.
Don't let the idea of getting surgery scare you away from getting dental implants. Many patients find that the process is much easier than they anticipated, and the rewards are more than worth any inconvenience you may put up with along the way.
About the Implant Dentist
Dr. David George Banda is your implant expert in Bloomfield Hills. If you have questions about how he can give new life to your smile, please contact our office at 248-647-5434.
Comments Off

on Tips to Help You Recover from Your Dental Implants Surgery
No Comments
No comments yet.
RSS feed for comments on this post.
Sorry, the comment form is closed at this time.