January 9, 2018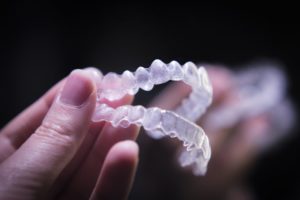 If you've looked into clear aligners from your dentist like Invisalign, you're probably aware of how expensive they can get. According to your dentist, they typically cost several thousand dollars to use. But the results they provide, the benefits clear aligners offer during treatment, and the attention to detail Invisalign's aligners use are all reasons why it cost so much. If you're currently comparing them with other orthodontic treatments such as traditional braces, you'll want to read this point first before pulling the trigger on your decision. Clear aligners are worth it to fix misaligned teeth over metal braces and that's exactly what your dentist will be covering today.
The Costs of Invisalign Are Worth It
When you purchase Invisalign, you aren't just paying for custom-made aligners designed to fit your teeth as comfortably as possible. You are purchasing a path to straighter teeth that also accompanies your lifestyle. You're paying for a future that leads to easier cleaning, a lower chance of gum disease and tooth decay, and a smile that you'll find more attractive than ever before.
Invisalign's track record and SmartTrack technology give you the peace of mind that your treatment will produce effective results and fix mild to moderate crowding and misalignment. By contributing innovations based on over 20 years of research and servicing 5 million patients, Invisalign has been able to gain the most experience in the clear aligner industry. It's how they're able to offer the best odds for making your smile straight in as little time as possible.
Furthermore, the cost of Invisalign varies widely depending on many different factors.
The Average Cost of Invisalign
When determining invisalign cost, you'll have to look at where you are, how complex your case is, how long you're in treatment for, and how much your insurance covers orthodontic treatment. According to Invisalign, clear aligners cost between $3,500 and $8,000, but this is better determined by your dentist. They have a better understanding of your case and can provide a more accurate estimate of how long you'll be in treatment for.
Luckily, most dental insurance plans cover orthodontic treatment, but this factor also varies greatly person-to-person. Before pursuing any Invisalign treatment, contact your insurance provider and review their summary of benefits to make sure you aren't paying to many out-of-pocket costs.
How Invisalign Compares to Traditional Braces
With clear aligners, you don't have to adapt to the new hardware required from traditional braces. That means you won't have to change your brushing technique or your eating habits since Invisalign's treatment uses removable hardware. It also means you can retain your current image, which is ideal if you're an adult who works in a professional environment.
While traditional braces can be less expensive at first, that price doesn't account for all the necessary follow-up visits that come with them. Invisalign requires fewer visits, saving you money in the long-term and time spent in the dental chair. This is especially true since the average treatment for Invisalign is 6 to 18 months, while traditional braces can take a minimum of two years to provide results.
When it comes to realignment, clear aligners from Invisalign are the answer. Contact us to learn more and receive your free consultation!
About the Author
Dr. David G. Banda earned his Doctor of Dental Surgery degree from the University of Michigan and is a member of many dental associations, academies, and study clubs. He also offers Invisalign to adults and teenagers looking for an alternative to long-term metal hardware. To learn more about his practice, contact him at (248) 647-5434 or visit his website.
Comments Off

on Why Invisalign Clear Aligners are Worth It for a Straighter Smile
No Comments
No comments yet.
RSS feed for comments on this post.
Sorry, the comment form is closed at this time.