June 30, 2016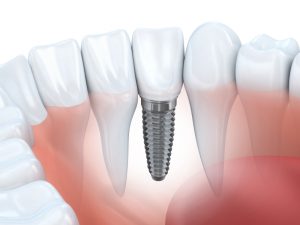 As your cosmetic dentist in Birmingham MI, Dr. Banda knows the effect missing teeth can have on your quality of life. Gaps in a smile cause difficulty eating and speaking… and they also make laughing a lot less enjoyable. But did you know that missing teeth affect your oral and overall health, too? But there is a solution: replacing teeth with dental implants promotes general well-being.
The Link Between Tooth Loss and Oral Health
Our bones need stimulation to thrive. When a tooth is present, its root provides the necessary activity for the jawbone. After tooth loss, however, the jaw slowly degenerates due to a lack of stimulation — unless it's replaced with a dental implant.
The dental implant is a small titanium cylinder that acts as a prosthetic root for the replacement device that is attached on top. It's the only truly comprehensive tooth replacement available today. A dental crown, bridge, or denture can be stabilized using dental implants.
Multiple Benefits of Dental Implants
When your jawbone remains stable, you avoid that sunken, missing-tooth look. Your tooth replacement device fits properly, without the need for frequent adjustments due to a degenerating jaw. And with a stable foundation, you also avoid further tooth loss in the years to come.
As for your overall health? When you're able to eat whatever you want without the stress or discomfort of an ill-fitting device, you can enjoy good nutrition and a healthy body. Dentures that fit properly don't rub painful blisters in the soft tissues of the mouth, either. Ill-fitting dentures are linked to the development of oral cancer.
Are You A Candidate for Dental Implants?
Many patients who wish to replace their teeth with dental implants are good candidates for the procedure. Schedule an appointment with Dr. Banda, your implant dentist in Birmingham, to determine whether or not you are eligible for implant dentistry. Two primary considerations affect your candidacy for dental implants.
Existing jawbone structure. For dental implants to be successful, they need plenty of supporting bone for anchoring. Patients who have dealt with missing teeth for years may have weak or insufficient bone structure. When insufficient jawbone is present, bone augmentation procedures like bone grafting or sinus lift can increase eligibility.

Overall health. Patients should be able to recover from an invasive procedure to be considered for the dental implant treatment. Uncontrolled diabetes, advanced cancers, and HIV/AIDS can affect the success of traditional dental implants.

Smokers should be aware of the effects tobacco use has on the proper healing following dental implants surgery.
Learn More About Dental Implants Today!
You can benefit from the best teeth replacement in Bloomfield Hills — call Cranbrook Dental Care to discuss your options with dental implants with Dr. Banda. Contact us to schedule your appointment today!
Comments Off

on Dental Implants Improve Your Oral, Overall Health
No Comments
No comments yet.
RSS feed for comments on this post.
Sorry, the comment form is closed at this time.