March 2, 2016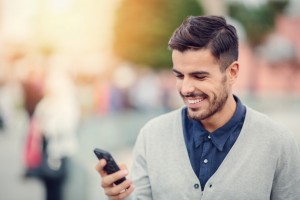 Invisalign aligners from your Bloomfield Hills Invisalign dentist, David G. Banda, straighten teeth in 6 to 18 months. Learn how this amazing system works.
Invisalign clear aligners are an outstanding alternative to metal bracket and wire braces. Custom-fabricated from thin, biocompatible, durable acrylic, these orthodontic appliances snap over top and bottom teeth, gradually correcting dental positions. As a result,  teeth look great, bite well and have fewer cavities and gum problems.
How does the Invisalign system work?
Invisalign clear aligners come in pairs. After Dr. Banda and his patient determine Invisalign is the best choice for his or her overbite, under bite, tooth rotation, overjet, crossbite or open bite, the Bloomfield Hills dentist sends treatment instructions and patient images to the Invisalign lab.
A special technician constructs 18 to 30 pairs of aligners which are incredibly clear, comfortable and easy to care for. Also, the doctor can show the patient how treatment will progress and how the finished smile should appear.
The patient receives his aligners from Dr. Banda and, adhering to his personalized treatment plan, wears the appliances 20 to 22 hours a day. He removes them to brush and floss and for meals and snacks.
At first, teeth feel sore from the pressure exerted by the aligners. However, this resolves quickly, and the individual may use over the counter acetaminophen and ibuprofen as needed during the initial adjustment period.
The patient comes to Cranbrook Dental Care every 4 to 6 weeks to receive the next sets of aligners and for quick progress checks.  Unlike traditional, ceramic or lingual braces, Invisalign appliances require no lengthy and uncomfortable adjustments. Time in the dental chair is minimal, an Invisalign benefit attractive to busy teens and adults.
When treatment time finishes, the patient is left with a beautifully reconstructed smile, including a great bite, and no gaps, overlapping teeth or crowding. A customized Vivera retainer keeps teeth well-aligned when worn for a prescribed amount of time daily on a permanent basis.
Why do adults and older teens like Invisalign?
The advantages of Bloomfield Hills Invisalign are many, including:
Practically invisible appearance, a feature that allows patients to go through treatment with confidence in how they look
Ease of care because patients remove the aligners to brush and floss their teeth twice daily with no complex flossing routines or special hygiene products needed
A healthy diet which does not restrict consumption of nuts, bagels, fibrous vegetables and other foods which break the wires and dislodge the brackets of traditional braces
Removing the appliances for meals, oral hygiene and special occasions such as job interviews, proms and weddings
Smooth and comfortable texture, unlike the rough surfaces of metal braces that cause sore spots on sensitive oral tissues
Does Invisalign sound right for you?
If you would like a beautiful, straight smile, free from misalignments that compromise oral health, then Invisalign clear aligners may be your orthodontic choice. Why not contact Cranbrook Dental Care to arrange a consultation with Dr. Banda and his professional team?
Comments Off

on How does Bloomfield Hills Invisalign work, and how quickly?
No Comments
No comments yet.
RSS feed for comments on this post.
Sorry, the comment form is closed at this time.