January 4, 2016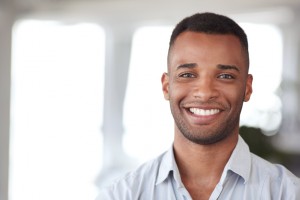 Dental implants, the state of the art tooth replacement from Cranbrook Dental Care, make patients smile. Read about the reasons why they work so well.
Tooth loss can devastate appearance, jaw bone integrity and everyday speech and eating. When decay, accident or gum disease robs an individual of one or more teeth, Dr. David Banda at Cranbrook Dental Care frequently recommends dental implants. Stable and incredibly lifelike in appearance and function, dental implants are true artificial teeth from roots to crowns.
What are dental implants?
The dental implant is comprised of 3 parts:
a titanium, screw-like device surgically placed into the empty tooth socket
a metal abutment or post attached to the implant and extending above the gumline
a porcelain crown
Dr. Banda carefully checks an individual's oral health and jaw bone integrity to decide if he or she is a good candidate for the procedure. With the decision made, Dr. Banda drills a small pilot hole in the bone and screws in the implant. After a period of healing to ensure the device has fully integrated to the jaw, the Cranbrook dentist bonds in an extension post above the gums and attaches a customized porcelain crown.
Preferable to other tooth replacements
For decades, traditional partial dentures, full dentures and fixed bridgework have spanned smile gaps successfully, but not without common problems such as:
denture slippage, causing speech and eating issues
crowning of adjacent teeth to anchor bridges
enamel preparation to accept the metal clasps on a partial denture
gum and jawbone recession
replacement necessary within a decade or less
On the other hand, dental implants actually resemble natural teeth in many ways. For example:
Dental implants are secure. Through a natural process dentists call osseointegration, titanium dental implants, and even orthopedic joint replacements made of the same metal, fuse to human bone. As people bite and chew, the pressure exerted on the implant transfers to the jaw and exercises it, making it very strong.
Dental implants are lifelike. Whether used to replace one tooth or to anchor a full fixed or removable denture, these prosthetics look and function like real teeth. Patients testify that implants feel like their natural teeth, and that oral hygiene is as easy as brushing, flossing and getting professional cleanings at Cranbrook Dental Care.
Dental implants work. The American Academy of Osseointegration reports successful placement and retention rates of well over 90 percent. Smoking and poor oral hygiene may threaten long-term retention however.
Dental implants allow people to enjoy the healthy foods they want. While eating corn on the cob, steak or other hard or fibrous menu items can be difficult with traditional tooth replacements, there are no restrictions for implant patients.
Talk to Dr. Banda
Dr. David G. Banda and his associate dentists at Cranbrook Dental Care love talking about dental implants. If you are considering getting one or more implants, don't delay. Contact the office today, and arrange a smile consultation with the team.
Comments Off

on Reasons to smile with dental implants from Dr. David Banda
No Comments
No comments yet.
RSS feed for comments on this post.
Sorry, the comment form is closed at this time.