September 1, 2015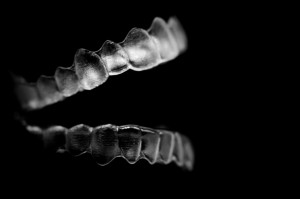 If you have a smile that could use professional straightening treatment, you've come to the right place. There are many patients scattered throughout the Bloomfield Hills, MI area that have smiles that they wish could look much better. Unfortunately, we're not all born with perfect teeth and things happen throughout the course of our lives that dictate how our teeth look later on. In the case of misaligned teeth, there are many reasons why they got that way in the first place. We don't care how they got that way, we only care about how to treat the problem.
We know what you're thinking, "I don't want to wear metal braces!" The good news is we don't offer metal braces treatment, but we do offer something that's even better. Invisalign is one of the most popular cosmetic dentistry treatments that we offer. It can get smiles looking and feeling straighter in much less time than with metal braces. Plus, it's a much more comfortable alternative without the feeling of sharp metal brackets. Are you ready for Invisalign, Bloomfield Hills? It's state-of-the-art treatment for our patients provided by the dentist Bloomfield Hills residents can trust – Dr. Banda.

You Can Straighten Your Teeth in Disguise
The beauty of Invisalign is the convenience that it provides for patients. If you've known anyone that has had braces, they're quick to remind you of how painful treatment was. Not to mention, the duration of treatment time would hover in the 3-5 year range. It was common practice for anyone with misalignment issues to receive metal braces and that continues through today.
Without the need for uncomfortable metal brackets or prickly wires – Invisalign can comfortably reposition teeth in less time. Its state-of-the-art straightening technology rests comfortably against the inside of your lips and can be removed at any time. It's no wonder why adults and teens alike have preferred Invisalign over traditional straightening methods.
You can expect a brand new smile in roughly 6 to 18 months. The best part is nobody will ever have any idea that you're straightening your teeth. It's revolutionary treatment that is straightening thousands of smiles each and every day. If you're considering straightening treatment, now is a great time to look into Invisalign.
Take Advantage of Our Invisalign Special – Make an Appointment
If you want in on this state-of-the-art straightening technology, we suggest you take a look at our Invisalign special. You can enjoy the benefits of fewer office visits, less treatment time and the comfort of smooth plastic aligners. You can receive Invisalign treatment for just $123 per month, which comes with a free consultation. It's high-quality treatment that won't empty your wallet. We encourage Bloomfield Hills, MI residents and those in surrounding areas like Birmingham, Royal Oak, and Rochester Hills, to straighten their teeth with Invisalign.
No Comments »
No comments yet.
RSS feed for comments on this post.
Leave a comment