July 23, 2015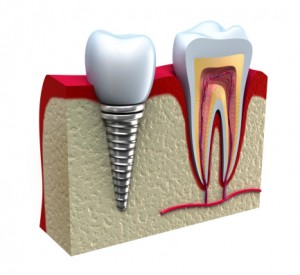 If you're suffering from missing teeth, we feel for you. It isn't just the discomfort of not having teeth that you have to deal with, it's your appearance, too. Think about a job interview for just a moment. If an employer is down to two candidates for the same job, whom do you think they're going to pick? The applicant with a smile that could make Ebenezer Scrooge blush or the applicant with a smile that leaves a lot to be desired? The obvious choice is the first applicant. Your smile says a lot about you, and when you have missing teeth, others could get the wrong impression. We know it's silly, but it's the unfortunate truth. Our Bloomfield Hills, MI office is determined to get you the smile you've always wanted incorporating dental implants into your treatment. Dr. David Banda and his A-team will make your smile look like a million bucks when you opt for dental implants.

What Causes Teeth To Go Missing?
The next time you go grocery shopping, take a look around. Notice all of the aisles that are stocked with all sorts of goodies? Most often, its these "goodies" that are the main culprit behind losing teeth. So much for the "goodies" moniker; it should be changed to "badies" (get it?). We'd suggest walking past the goodie aisles. You know which ones we're talking about: ice cream, candy, sodas, etc. Sugar is not your friend, and can lead to problems down the road. Its these problems that have a lot to do with why some smiles are missing teeth.
Below are the main culprits behind teeth and how they go missing:
Huge cavities
Extensive tooth decay
Past/present dental injuries
Periodontal disease (gum disease)
Dental injuries
These aren't the only factors that help teeth erode, there are plenty more. Keeping a close eye on what you're ingesting can go a long way in protecting yourself against tooth decay, plaque and other bacteria. When you receive dental implants, you've chosen therapy that lasts a lifetime. There's no such thing as a temporary fix when you talk about dental implants; they're permanent. They're also very strong; in some cases stronger than your own teeth.
Get Relief – Schedule An Appointment With Us
The only way to get proper treatment is by visiting us in Bloomfield Hills, MI. If dental implants are a viable option for you, Dr. Banda will discuss the procedure during a one-on-one consultation. We happily extend service to the areas of Troy, Birmingham, Clawson, Rochester Hills, Berkley and beyond.
No Comments »
No comments yet.
RSS feed for comments on this post.
Leave a comment