October 31, 2013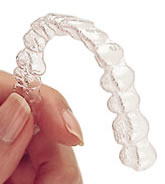 For teens and adults who want straighter teeth without having to wear conventional braces, Dr. David Banda of Cranbrook Dental Care offers Invisalign clear braces. With Invisalign, our Bloomfield patients can have the straighter, more beautiful teeth they've dreamed of, but without the issues that patients with regular braces can face. That's because Invisalign uses clear aligner trays instead of metal brackets and wires.
Every patient seeking treatment with Invisalign will receive a special treatment kit with all the aligners they'll need to achieve results. As treatment progresses, all patients have to do is wear the appropriate set of aligners for about two weeks before moving on to the next. There's nothing to tighten, and those around you may not even notice that you're wearing braces.
But clear aligners aren't the only benefit of Invisalign. The trays can also be taken out for eating, brushing, flossing, and more. That means that Dr. Banda's Invisalign patients can enjoy the same kind of diet they always have. It also makes brushing and flossing easier. What's more, when the brackets and wires of regular braces aren't there, patients can actually keep their teeth cleaner, benefitting their oral health now and in the future.
But Invisalign isn't the best option for every patient. Do you have questions about Invisalign? Talk to Dr. Banda of Bloomfield, MI. During a consultation at Cranbrook Dental Care, we can assess your needs and made a personalized recommendation.
We serve patients from Bloomfield, Bloomfield Hills, Troy, Birmingham, and beyond.
No Comments »
No comments yet.
RSS feed for comments on this post.
Leave a comment