October 4, 2013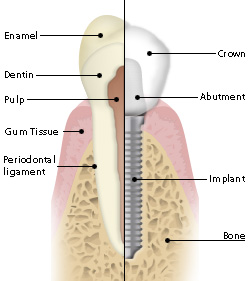 For patients who need to replace one or more teeth, bone loss can be an impediment to care. Thankfully, it doesn't have to be. At Cranbrook Dental Care, Dr. David Banda can help patients who are otherwise not candidates for dental implants through a procedure called a sinus lift. With a sinus lift, a patient who doesn't have enough bone density to support one or more dental implants can come away from a visit to our Bloomfield Hills dental office with enough bone to support implants after a resting period.
Why do patients lose bone over time? There are at least two big reasons. One of those is gum disease. As one of the most common oral health conditions a patient can face, gum disease is responsible for tissue loss, bone loss, and tooth loss.
Bone loss will also occur when a tooth has been lost. Tooth roots serve an important function—they stimulate the growth of new bone tissue. When one or more roots go missing, there's nothing there to promote the growth of fresh bone tissue. As a result, bone is lost, putting nearby teeth at risk too.
With a sinus lift from Dr. Banda's office, patients who were not previously a candidate for dental implants can now get the important care they need. Do you want to know if dental implants or a sinus lift is right for you? Call Cranbrook Dental Care today to schedule an appointment with Dr. Banda.
We serve patients from Bloomfield, Bloomfield Hills, Troy, Birmingham, MI.
No Comments »
No comments yet.
RSS feed for comments on this post.
Leave a comment